Jets receivers encouraging Geno Smith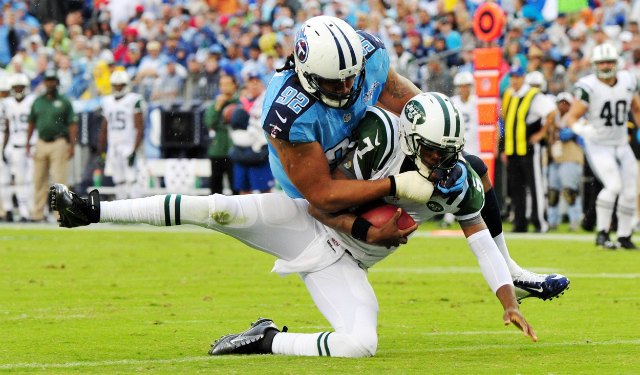 Sometimes, Jets rookie quarterback Geno Smith looks fantastic, showcasing the kind of skills that can make him the franchise quarterback Mark Sanchez never could be. And sometimes, he looks like a poor facsimile of Sanchez.
Like, for instance, his outing last Sunday vs. the Bills when he went 8 of 23 for 103 yards with no touchdowns, three interceptions, a lost fumble, and a passer rating of 10.1.
But as for benching Smith for Matt Simms, that's not a great idea. As CBSSports.com's Ryan Wilson wrote this week, "Realistically, the Jets aren't a legit playoff team this season. But benching Smith doesn't do anything other than rob him of much-needed experience."
Perhaps sensing that, Jets receivers have approached Smith this week to offer encouragement and advice, according to the NY Daily News.
"We didn't all walk up to him at once," receiver David Nelson told the newspaper. "It was one of those things where we made a decision as a group that if you get a chance and see Geno today, let him know that we appreciate him and we know he's capable of leading this team to the playoffs."
After the Jets were dominated by the Titans 38-16 in Week 4, Smith took it upon himself to apologize to the team for the way he played. This week, his teammates made sure to protect him.
"Whether it be receivers weren't in the right spot or the protection wasn't the way it was supposed to be, there were a lot of miscues in that game," Nelson said. "A lot of mental errors. It wasn't just on Geno.
"If it was a guy who has been in the league six or seven years, it may not have been as big a deal, but for a guy who's been in the league for 11 weeks, he may have needed that. He's just got to know that his teammates have his back."
The problem, though, is that coach Rex Ryan hinted that Simms might take some first-team reps in practice this week, leading some to believe that we have the first sparks of a Jets quarterback controversy -- which, for those of us who cover the NFL, would be a groan-worthy yet somewhat delicious endeavor.
Ryan later said he probably shouldn't have said anything about it, and reportedly, Simms took his usual amount of reps in practice Wednesday -- which normally includes a few snaps with the first team.
Say this for the Jets. Even when they've found a quarterback who potentially could lead the team into the future, there's always the chance to mess with his confidence for very little reason at all.
Follow Josh Katzowitz on Google+