NFL Division Power Rankings: NFC West is back on top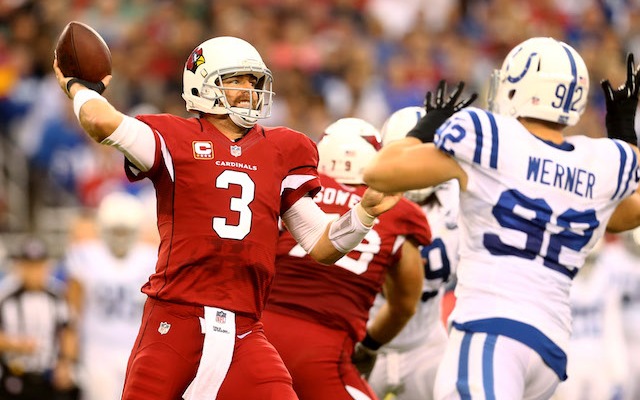 The NFC West is right back where it started: On top of the Division Power Rankings. The NFC West was ranked No. 1 in the preseason power rankings back in July and it held that spot until after Week 2.
Now 10 weeks later, the NFC West is back at No. 1 and threatening to put three teams in the playoffs. Besides trying to decide what sweet potato casserole recipe to use on Thanksgiving, I did one other thing this week: research.
With the Cardinals and 49ers both in the Wild Card race, I wanted to know how often a division has sent three teams to the playoffs in the same year -- and the answer is not often. Since the NFL realigned the divisions in 2002, it's only happened four times.
In 2006, the NFC East sent three teams to the playoffs: Philadelphia, Dallas and the Giants. The Eagles won the division, the Cowboys earned the fifth seed and the Giants took the sixth seed at 8-8 by winning a strength of victory tiebreaker.
In 2007, the NFC East struck again, sending Dallas, the Giants and Washington to the playoffs. The AFC South also sent three teams to the playoffs in 2007, with Indianapolis, Jacksonville and Tennessee all making it.
The only other division to send three teams to the playoffs was the AFC North in 2011, when Baltimore, Pittsburgh and Cincinnati all made the postseason.
If the NFC West does send three teams to the playoffs, that's necessarily good news as far as winning the Super Bowl goes. Only the Giants in 2006 came out of a three-playoff team division to win the Super Bowl and they did it as the sixth and final seed.
I think I've done my duty here because now you have divisional trivia questions you can ask your drunk uncle at Thanksgiving dinner. Lets get to the rankings.
NFL Division Power Rankings after Week 12
1. NFC West: The worst team in this division beat the Chicago Bears by three touchdowns on Sunday and that wasn't even the best win the NFC West had. That honor belongs to the Cardinals 40-11 thrashing of the Colts. When the Rams and Cardinals are both winning games by over 20 points against good teams, that's when I know it's time to move the NFC West back to the top spot. I'd love to sit here and say the NFC West is going to get three teams in the playoffs this season, but there's one big problem: Sept. 9, 2012. Why is that date a problem? Because it's the last time Arizona won a division game. The Cardinals are 0-8 in their past eight games against the NFC West and of course, as fate would have it, Arizona closes with three of its final five games against division opponents. Last week's ranking: 2. (4-0 vs. NFC North, 6-5 vs. NFC South, 12-3 vs. AFC South, 1-1 vs. NFC East)
2. AFC West: If you had asked me before Week 12 what would have been the worst week possible for the AFC West, I would have said, "The Broncos blow a 24-0 lead, the Chiefs lose their two star linebackers and the Raiders lose because Sebastian Janikowski can't make a field goal." OK, that's probably not word-for-word what I would have said, but it would have been close. The AFC West falls out of the top spot this week and I don't see it climbing back to No. 1 anytime soon. Last week's ranking: 1. (3-0 vs. AFC North, 8-5 vs. AFC South, 9-4 vs. NFC East, 1-2 vs. AFC East)
3. AFC North: Joe Flacco was mad this week because the Ravens ran the wildcat against the Jets and Flacco thinks the wildcat is a 'high school' offense. Honestly, I'm not sure who should be more mad at this comment, Baltimore offensive coordinator Jim Caldwell or the Jets. Flacco is basically calling Caldwell's game plan horrible, but he's also saying the Jets couldn't beat a team that ran a 'high school' offense. Either way, I think Flacco will be happy to hear that instead of turkey, I think I'm going to eat McDonald's Mighty Wings for Thanksgiving. Last week's ranking: 4. (8-4 vs. AFC East, 0-3 vs. AFC West, 1-1 vs. AFC South, 4-7 vs. NFC North)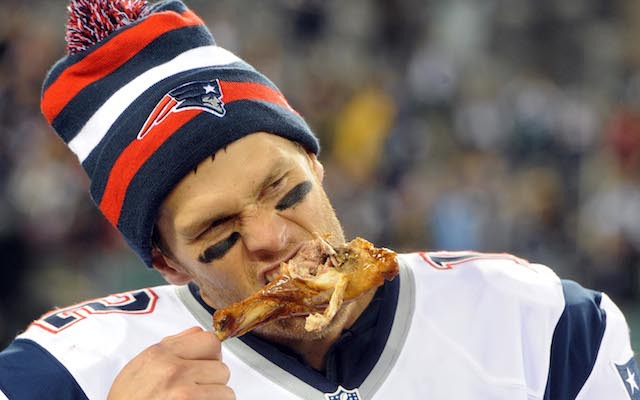 4. AFC East: Tom Brady left some turkey for the rest of us. Lets all be thankful for that because he didn't have to. Last week's ranking: 3. (4-8 vs. AFC North, 8-5 vs. NFC South, 1-1 vs. AFC South, 2-1 vs. AFC West)
5. NFC South: If you would've given me 30 guesses in August on which NFL team would be the first one eliminated from playoff contention this year, I would have guessed Jacksonville 28 times, the Raiders once and maybe the Buccaneers. A team I wouldn't have guessed is the Atlanta Falcons. When San Francisco beat Washington on Monday, Atlanta became the first and so far the only team to be eliminated from playoff contention this season. However, I'm not going to punish the division because the Falcons are horrible and that's mainly because the other three teams in the NFC South are a combined 9-0 since Nov. 10. Last week's ranking: 6. (5-8 vs. AFC East, 5-6 vs. NFC West, 2-1 vs. NFC East, 3-0 vs. NFC North)
6. NFC North: Here's a tweet from Sunday that says everything I think we need to say about the NFC North this week:
The NFC North went winless today---and two of them played each other. That's amazing. Also stupid. But more amazing than stupid.

— World of Isaac (@WorldofIsaac) November 24, 2013
If the NFC North manages to go winless again this week, I'm dropping the division to the bottom of these rankings and I will wrestle a bear on my next day off. Last week's ranking: 5. (7-4 vs. AFC North, 0-4 vs. NFC West, 5-5 vs. NFC East, 0-3 vs. NFC South)
7. NFC East: If you could sum of the Redskins season in one GIF, it would probably be a burning car driving off a bridge into a volcano full of sharks. However, if that GIF had to actually be from Week 12, then it would be this one, where RG3 gets kicked and -- lets just say he'll be adopting RG4. Last week's ranking: 7. (5-5 vs. NFC North, 1-2 vs. NFC South, 4-9 vs. AFC West, 1-1 vs. NFC West)
8. AFC South: If you want an idea of how bad the AFC South is, the Jaguars are tied for the longest winning streak in the division and that streak isn't really a streak because it's only one game. However, that doesn't mean I'm not telling the Jacksonville ticket office not to send out playoff vouchers. The Jaguars might be tied for last place in the division, but if Jacksonville wins out and the Colts lose out and Tennessee -- actually, I'm not going to finish that thought, it's too crazy. Last week's ranking: 8. (5-8 vs. AFC West, 1-1 vs. AFC North, 1-1 vs. AFC East, 3-12 NFC West)
---
Follow John Breech on Google+