Cowboys wearing blue jerseys at home for first time in team history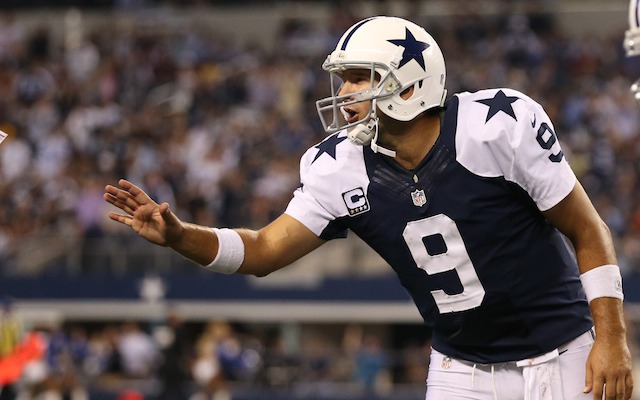 If you watch Oakland against Dallas on Thursday, you'll be witnessing something that's never happened before in NFL history: The Cowboys will be wearing their traditional blue uniforms at home for the first time ever.
That stat comes from NFL.com's Gil Brandt, who worked as the Cowboys VP of player personnel from 1960-89.
The Cowboys usually wear white jerseys when they play at home. According to the Cowboys website, that tradition started because former general manager Tex Schramm didn't want fans to get bored looking at the same uniform combinations every week. If the Cowboys wore blue uniforms at home and the road team was wearing white, then the combination on the field would always be blue and white.
By putting the Cowboys in white, there was almost always a new color on the field, from the Chiefs red to the Eagles green to the Vikings purple.
The only time the Cowboys wore blue at home was on Thanksgiving. The uniform combination Dallas usually wears on Thanksgiving is the throwback one pictured above. That combo features a blue jersey with white shoulders and a white helmet. However, the Cowboys can't wear that combo this year because of the NFL's new helmet rule.
Teams can only wear one helmet this season, so the Cowboys weren't allowed to switch from their standard silver helmets to the white helmets for Thanksgiving. The same thing happened to Tampa Bay earlier this season when the Buccaneers wanted to wear their creamsicle throwback uniforms.
Instead of wearing their throwbacks with silver helmets, the Cowboys just decided to start a new tradition all together and do something they've never done before: wear their regular blue jerseys at home.