Ken Whisenhunt could be popular head coaching candidate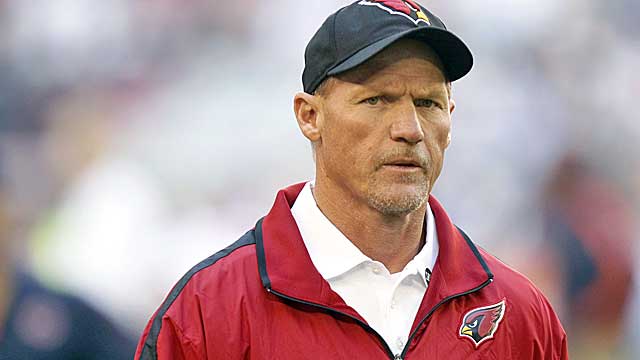 The coaching dominos began to fall (perhaps a little earlier than expected) on Friday when the Texans fired head coach Gary Kubiak, and during his news conference, owner Bob McNair said he wanted his next hire to be somebody with NFL coaching experience. He even mentioned Lovie Smith as a possibility.
And thus begins the speculation of who the next crop of coaches will be when this year's hot seat occupiers eventually get the pink slip.
Texas A&M coach Kevin Sumlin -- he of the new six-year extension -- seems off the market, and Stanford's David Shaw doesn't seem to have much NFL interest at this point (you can also peruse my Top 10 list from a few weeks ago about potential replacements).
But you know who might draw some interest? And actually, he's somebody not many likely would have considered before the start of the season. That would be Chargers offensive coordinator Ken Whisenhunt.
You know him because he spent six seasons with the Cardinals, going 45-51 and leading them to a Super Bowl appearance in the 2008 season before he was fired after last year. And with McNair stating the kind of qualifications he was seeking, why couldn't Whisenhunt, who interviewed for the vacant Bills position after he was fired in Arizona, get a shot at the Texans job?
"It goes to show what type of coach he is," Chargers coach Mike McCoy said, via UT San Diego. "When you have good coaches on your staff and you do good things, there's going to be opportunities for people. That's something you explore, getting in the business. It's all part of it.
This season, Whisenhunt's contributions have been noticeable, helping the Chargers become the fourth-best offense in the league after a No. 31 showing in 2012. Meanwhile, quarterback Philip Rivers, coming off one of his worst seasons as a pro last year, leads the league with a 70 percent completion percentage while recording 23 touchdowns against nine interceptions.
All of that could lead Whisenhunt to another head coaching job. Which wouldn't shock the coach who hired him before the season.
"He's an outstanding coach," McCoy said." We're lucky to have him. It wouldn't surprise me at all."
Follow Josh Katzowitz on Google+