NFL Division Power Rankings: Week 14 turns ugly for AFC South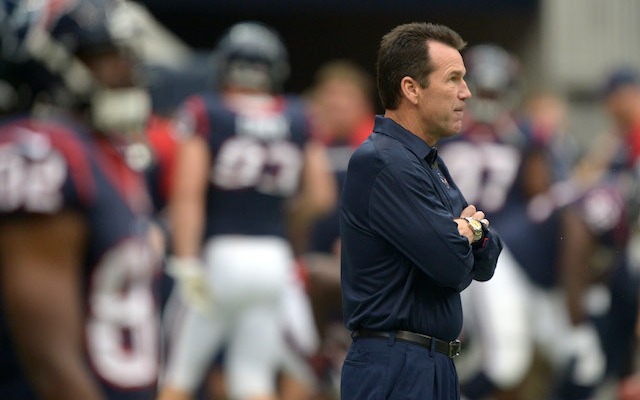 It's been a rough week for the AFC South. Not only did a coach get a fired, but the division's first place team gave up 42 points and lost by two touchdowns. Now the division is on the brink of doing something that only one other division has done since 2002: Have every team finish with a negative point differential.
Thanks to the Colts' 42-28 loss to the Cincinnati Bengals, Indianapolis has now been outscored by a total of three points (316-313) through 13 games this season.
The Titans, Jaguars and Texans also have negative point differentials. If all four teams end up in the negative, the AFC South would be the first since the NFC West in 2010 to have all four teams finish with a negative point differential.
Since 2002, when the NFL underwent divisional realignment, there have only been three instances where an entire division finished with a negative point differential and every time, that division was the NFC West (also in 2006, 2004).
Point differential isn't everything, but it does usually give you an idea of how bad or good a team is -- or in this case, an entire division. Since 2007, only three teams have finished the season with a winning record and also had a negative point differential: the 2008 Cowboys, the 2011 Giants and the 2012 Colts.
Bottom line: The AFC South isn't just bad this season, its historically bad. Enough point differential talk though, lets get to the rankings.
NFL Division Power Rankings after Week 14
1. NFC West: It seems like the only time an NFC West team loses anymore is vs. a divisional opponent -- or if the Rams are playing or a combination of the two. The Rams are 1-4 in the division this season, which I'd say is bad, but when you compare it to the Cardinals, it's actually not. Dating back to last season, Arizona is 1-8 in its past nine division games. If the NFC West is going to send three teams to the playoffs, the Cardinals are going to have to improve that record because two of the three games they have left are against division opponents. Last week's ranking: 1. (4-0 vs. NFC North, 6-5 vs. NFC South, 12-3 vs. AFC South, 1-1 vs. NFC East)
2. AFC West: If you live in the the Eastern Time Zone, the Raiders probably hate you. And your family. And the NFL team you cheer for. That's because the Raiders are having some serious problems winning games when they play in the Eastern Time Zone. Oakland's loss to the Jets was the team's 13th straight loss in the Eastern Time Zone. I'm thinking that for the Raiders next game in the Eastern Time Zone, the team should fly out east nine weeks in advance so they can get acclimated to the time change. As for the other AFC West teams, they all coasted through Week 14, winning their games by an average score of 44-17. Last week's ranking: 2. (3-1 vs. AFC North, 9-5 vs. AFC South, 11-5 vs. NFC East, 1-3 vs. AFC East)
3. AFC East: Poor Geno Smith. The Jets rookie quarterback played one his best games of the season against the Raiders, only no one noticed. Seriously, have you heard Geno Smith's name mentioned once since Sunday night? I've heard his first name mentioned once, but that's only because I saw a commercial telling me to watch Geno Auriemma and the Connecticut women's basketball team play Duke on Dec. 17. Geno probably shouldn't have picked the craziest week of the season to break out of his funk. Last week's ranking: 4. (6-8 vs. AFC North, 8-7 vs. NFC South, 2-1 vs. AFC South, 2-2 vs. AFC West)
4. AFC North: We all learned an important rule this week: Unless someone is having a seizure next to you, never turn off an AFC North game. And even then, you should take make sure they're OK and then turn the game back on. If Antonio Brown could have stayed inbounds or if the refs hadn't handed the Browns game to Tom Brady and the Patriots, the AFC North wouldn't be falling one spot this week. Unfortunately, Brown didn't stay inbounds and the refs did throw the weakest pass interference flag in the history of football, so the AFC North drops below the AFC East. Anyway, lets watch that Steelers play one more time. Last week's ranking: 3. (8-6 vs. AFC East, 1-3 vs. AFC West, 2-2 vs. AFC South, 5-7 vs. NFC North)
5. NFC South: The Buccaneers have won four of their past five games, which is usually impressive, but in the NFC South right now, it's actually just average because everyone else is doing it. The NFC South is the hottest division in football with the Bucs, Panthers and Saints all winners of four of their past five games. Then there's the Falcons, but lets not talk about them because that will make Samuel L. Jackson, Evander Holyfield, Jeff Foxworthy, Deion Sanders and Jimmy Carter all sad. Last week's ranking: 5. (7-8 vs. AFC East, 5-7 vs. NFC West, 2-1 vs. NFC East, 3-1 vs. NFC North)
6. NFC North: If you would have told me before the season that Josh McCown and Matt Flynn would be the only two winning quarterbacks in the NFC North in Week 14, I would've said, "Wait, so Raiders quarterback Matt Flynn is somehow going to be a Packer by December and he's going to take Aaron Rodgers' job and he's going to beat the Falcons, who are a popular preseason pick to go to the Super Bowl? HA. There's a negative-5,000 percent chance of that happening." Then someone probably would have explained to me that negative-5,000 percent isn't actually mathematically possible and then I would just shake my head, kind of like I am right now thinking about how Matt Flynn and Josh McCown won a game in the same week. Last week's ranking: 7. (7-5 vs. AFC North, 0-4 vs. NFC West, 6-6 vs. NFC East, 1-3 vs. NFC South)
7. NFC East: Apparently this division doesn't need kickers anymore. There were zero field goal or extra point attempts in the Eagles' win over the Lions and there were zero punts by the Bears in their win over the Cowboys. The NFC East drops one spot this week because every team not named the Eagles looked horrible in Week 14. If you're wondering how ugly it was for the NFC East, just think about how badly Dallas played and then remember that the Cowboys 45-28 loss was the closest loss by an NFC East team in Week 14. Last week's ranking: 6. (6-6 vs. NFC North, 1-2 vs. NFC South, 5-11 vs. AFC West, 2-1 vs. NFC West)
8. AFC South: If the NFL season had started on Nov. 1 -- I know, that would be weird, but just hear me out -- the 4-1 Jaguars would be in first place in the AFC South. The 3-3 Colts would be in second, the 2-4 Titans would be in third and the Texans would be in last at 0-6. And yes, Gary Kubiak would have still gotten fired because 0-6 is a bad start, even in my imaginary NFL where the season begins on Nov. 1. Last week's ranking: 8. (5-9 vs. AFC West, 2-2 vs. AFC North, 1-2 vs. AFC East, 3-12 NFC West)
---
Follow John Breech on Google+ or you can even sometimes find him on Twitter