Cody Wallace fined $7,875 for giving Randy Starks the business
Steelers center Cody Wallace has been fined $7,875 for doing this to Dolphins defensive lineman Randy Starks Sunday: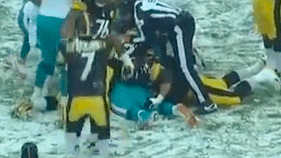 So yeah, it appears that Wallace is giving Starks an impromptu prostate exam. Except Wallace actually made the case Wednesday that it was all a big misunderstanding.
"I was trying to get under the pile and get a hand on the football,'' he said several times, according to the Pittsburgh Post-Gazette's Ed Bouchette. "Unfortunately, I didn't get low enough. As soon as I realized what was happening, I definitely stopped. It's unfortunate it looks that way and came out that way. ...
"I thought I was going to be able to get under there and I wasn't able to and I wasn't able to get a hand on the football," said Wallace, adding that he figured out Starks' butt wasn't a football "when he kind of started kicking around, I realized I wasn't going to make it there."
Save your breath, man. Nobody -- media, fans, the blind, the NFL -- bought it.
Wallace was also fined an additional $10,000 for unnecessary roughness for hitting a Dolphins player after the whistle. Put another way: In the NFL's eyes, giving another player the business at the bottom of a pile isn't nearly as egregious as a late hit.