Dez Bryant leaves field after Tony Romo's second interception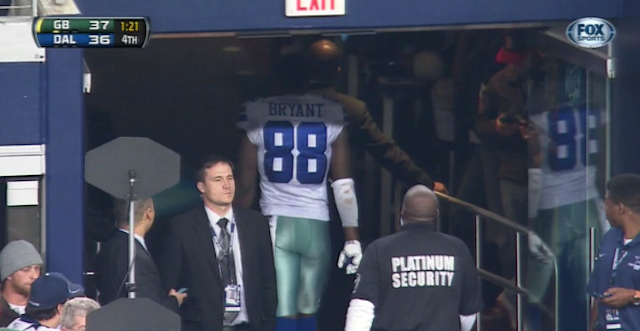 Not even Dez Bryant can take Tony Romo's fourth-quarter interceptions anymore. After Romo threw his second pick of the fourth quarter -- a pick that cost the Cowboys the game against Green Bay -- Bryant decided to head to the locker room even though there was still 1:21 left.
Less than an hour after the game was over, Bryant took to Twitter to explain why he left the field.
I walked back to the locker room because I was emotional...it had nothing to do with my teammates we had it... We fought and didn't finish

— Dez Bryant (@DezBryant) December 16, 2013
You can probably understand why Bryant was emotional. At halftime the Cowboys were beating the Packers 26-3. All Dallas had to do in the second half was keep Matt Flynn in check. That sounds easy on paper, but the Cowboys were unable to do it. Flynn threw four touchdown passes in the second half as Green Bay stunned Dallas 37-36.
Romo had a chance at leading a fourth-quarter comeback, but then Romo did what he does, which is throw a late interception. Coach Jason Garrett said after the game that Romo audibled out of a called run play when he threw the pick.
The inteception came on second-and-1 when the Cowboys were at their own 29. Dallas needed about 35 yards to get in Dan Bailey's field-goal range. As it was, Romo threw a pick and the Internet reacted accordingly.