Jerome Simpson accuses official of making controversial remarks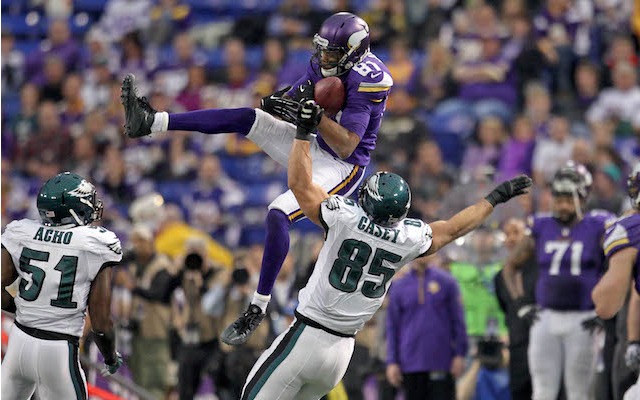 For the second time in a month, an NFL player has accused a game official of making inappropriate comments during a game. In November, Redskins offensive lineman Trent Williams accused game umpire Roy Ellison of calling him a 'garbage ass.' Ellison was suspended for one game.
This time around, it's Vikings wide receiver Jerome Simpson who's having problems. After Minnesota's 48-30 win over Philadelphia on Sunday, Simpson said that one of the officials made 'controversial' remarks to him and a few teammates.
"There were some questionable things, what the ref also said to a couple of our players," Simpson said, via the St. Paul Pioneer Press. "I won't go into that. It was kind of some stuff, controversial things that he said to a couple of our players... It wasn't good what he said. But I'll leave it at that. I'll let him live."
Simpson didn't identify the official who made the remarks and he also wouldn't specify what the official said. "It was definitely nothing that you say, that they should say to our players, what he said," Simpson said. "I didn't like it. I wanted to go ask him about it after the game but he took off into the locker room."
Although Ellison was suspended one game for his alleged remarks, the official who made comments towards Simpson apparently has nothing to worry about because Simpson isn't going to report him to the league office.
"I'm going to let him live. I ain't going to talk to them about it," Simpson said. "I ain't going to talk to the league about it. But I don't like it, what he said."
Despite the fact that Simpson didn't identify the official by name, he did say that it was the same official who called him for a taunting penalty in the fourth quarter. Simpson finished with one catch for 19 yards in the Vikings upset win over the Eagles.