NFL Division Power Rankings: NFC East falls apart in Week 15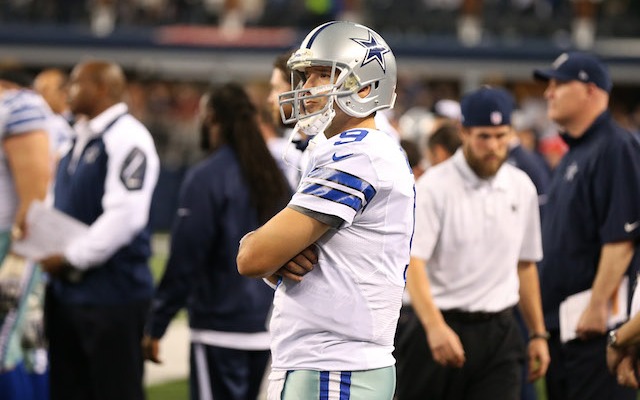 The NFC East went down in flames on Sunday and America noticed. And then after it went down in flames, the flames of the flames went down in flames. From the Cowboys blowing a 23-point halftime lead to Eli Manning's five-interception day, it was an ugly week for the division.
As it matter of fact, it was so ugly, Twitter started making snarky remarks.
NFC East teams are going a little overboard with this "holiday spirit" thing. They're all trying to give the division away. Smh...

— Bonnie Bernstein (@BonnieBernstein) December 16, 2013
The NFC East went 0-4 this week, is basically no longer football but some sort of avant-garde exposition.

— Matt Norlander (@MattNorlander) December 16, 2013
An NFC East team is going to make the playoffs. WE WERE WRONG ABOUT YOU, BCS!

— sir broosk (@celebrityhottub) December 16, 2013
This fan has come to terms with the fact the NFC East isn't good:
There shouldn't be an NFC East team allowed in the playoffs. Man everyone sucks

— chris johnson (@ceejuation) December 16, 2013
The NFC East does have one defender though. He must be reading the Power Rankings:
Can people stop saying the NFC East is the worst division in football? Clearly the AFC South is worse, we at least have two okay teams

— Michael Thein (@therealplushyC) December 18, 2013
Anyway, lets get to the power rankings and talk about divisions that didn't go 0-4 in Week 15, like the NFC West, a division that went undefeated.
NFL Division Power Rankings after Week 15
1. NFC West: The Rams win over New Orleans in Week 15 means that by the end of the season, the NFC West's last place team could have wins over first place teams from three other divisions: The Saints, the Bears and the Colts. The Rams should probably petition Roger Goodell to geographically realign the divisions next season, because St. Louis seems to be able to beat almost anyone, except other teams in the NFC West. Last week's ranking: 1. (4-0 vs. NFC North, 9-5 vs. NFC South, 13-3 vs. AFC South, 2-2 vs. NFC East)
2. AFC West: I watched about four plays of the Chiefs game against Oakland on Sunday and I think Jamaal Charles scored on every single one of them. Charles scored a total of five touchdowns against the Raiders, with four coming through the air and one coming on the ground. The reason that's impressive is because the last time someone caught four touchdown passes and also had a touchdown run in the same game was never. It's never happened before. Something else that had never happened before? Alex Smith throwing five touchdown passes in one game. Last week's ranking: 2. (3-1 vs. AFC North, 9-5 vs. AFC South, 11-5 vs. NFC East, 1-3 vs. AFC East)
3. NFC North: The most amazing thing to happen in the NFC North in Week 15 was: A. Matt Flynn leading a 23-point second half comeback. B. Jay Cutler finishing 11 of 12 for 151 yards and two touchdowns on third down plays. C. The Vikings putting up 48 points on a first place team. D. The Lions losing on a 61-yard field goal. E. Everything. I vote for everything. And since the NFC North's last place team -- Minnesota -- beat another division's first place team, the NFC North is moving up this week. Last week's ranking: 6. (8-6 vs. AFC North, 0-4 vs. NFC West, 8-6 vs. NFC East, 1-3 vs. NFC South)
4. NFC South: Here's how bad things have gotten in Atlanta: Even when the Falcons win, they lose. Fans were complaining on Twitter because Atlanta's win over the Redskins is going to cost the team a higher draft pick. The Falcons play San Franciso this week in what could possibly end up being the worst NFC Championship game rematch of all-time. Last week's ranking: 5. (8-8 vs. AFC East, 5-9 vs. NFC West, 3-1 vs. NFC East, 3-1 vs. NFC North)
Sounds bad but I didn't want the falcons to win so they can get a really good draft pick

— zach waltz (@WALSHmanzada) December 15, 2013
5. AFC North: Do you know what Bengals punter Kevin Huber was doing on Monday, the day after Steelers linebacker Terence Garvin broke Huber's jaw with an illegal hit? Huber was drinking a milkshake because that's all you can do when your jaw is wired shut. Punter abuse won't be tolerated in the Division Power Rankings, so the AFC North is down one spot this week. Last week's ranking: 3. (8-6 vs. AFC East, 1-3 vs. AFC West, 2-2 vs. AFC South, 6-8 vs. NFC North)
@LanceMcAlister @holygrailbanks I'm home and doing well. Dominating a giant mint chocolate chip milkshake from greaters!

— Kevin Huber (@khuber10) December 17, 2013
6. AFC East: Ranking the AFC East was difficult this week because I didn't know if I should reward the division or not since the Bills beat the hottest team in the AFC. The only problem with rewarding the division is that the hottest team in the AFC was Jacksonville, a team that went into Week 15 with a three-game winning streak. The new hottest team in the AFC is the Ravens. If New England ends Baltimore's four-game winning streak, then I promise to move up the AFC East next week, but only if the Jets promise not to fire Rex Ryan. Last week's ranking: 3. (6-8 vs. AFC North, 8-8 vs. NFC South, 3-1 vs. AFC South, 2-2 vs. AFC West)
7. NFC East: NFC East fans probably need a hug this week after what happened in Week 15. Actually, a hug might not do it. They probably need a hug, a bottle of whiskey and then another hug after the bottle of whiskey is gone. The Cowboys, Eagles and Redskins all scored 26 or more points and still managed to lose. Scoring 26 points and losing is probably a problem Giants fans would love to have after getting shutout for the second time this season. Last week's ranking: 7. (6-8 vs. NFC North, 1-3 vs. NFC South, 5-11 vs. AFC West, 2-2 vs. NFC West)
8. AFC South: The only time an AFC South team seems to win anymore is when they're playing another AFC South team. Three of the four teams in the division -- Indianapolis, Jacksonville and Houston -- have had at least half of their wins come against division opponents. Just to put into perspective how odd that is: of the other 28 teams in the NFL, there are only four who have had at least half their wins come against division opponents. Last week's ranking: 8. (5-9 vs. AFC West, 2-2 vs. AFC North, 1-3 vs. AFC East, 3-13 NFC West)
---
Follow John Breech on Google+ or you can even sometimes find him on Twitter