Aaron Rodgers 'looks sharp,' Packers QB announcement on Friday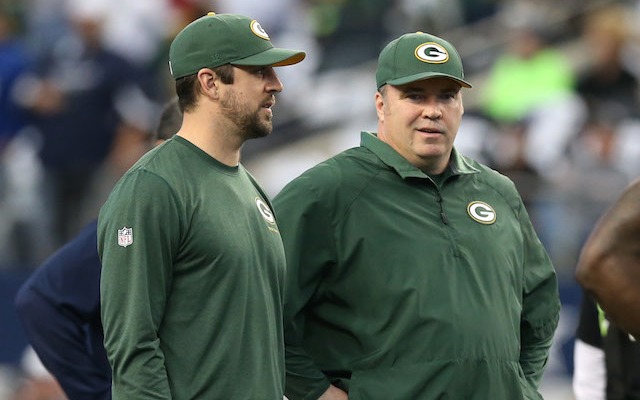 Aaron Rodgers looked sharp in practice on Thursday, but that doesn't mean he's going to start against the Steelers this week. Rodgers still hasn't been medically cleared to play and because of that, backup quarterback Matt Flynn took most of the first-team reps on Thursday, according to ESPNWisconsin.com.
Packers coach Mike McCarthy did say Rodgers looked good during practice and that the team would make a quarterback announcement on Friday. "He looks sharp, he definitely looks better this week," McCarthy said of Rodgers. "He looks like he's ready to play."
McCarthy was then asked if Rodgers should play, "You wanted an update, you wanted to know how he looks, he looks good," McCarthy said. "He's a limited practice participant. He hasn't been medically cleared."
With Friday looming, Rodgers was asked if he thought he would be medically cleared, "I have a good sense of what's going to happen, yes." That could mean Rodgers doesn't expect to be cleared. Jason Wilde of ESPNWisconsin described Rodgers as frustrated-looking and irritated as he answered questions about whether or not he would play. Of course, Rodgers might just be frustarted with the media and he actually expects to play. Everyone will just have to watch McCarthy's press conference on Friday to find out.
With Rodgers out, the Packers have managed to stay in the playoff race thanks to the play of Flynn. Flynn has Green Bay on a two-game winning streak and thanks to the team's 23-point comeback win over Dallas, the Packers now control their playoff fate. If Green Bay beats Pittsburgh this week and the Bears in Week 17, then the Packers are in the playoffs.