Ravens QB Joe Flacco listed as questionable for Week 16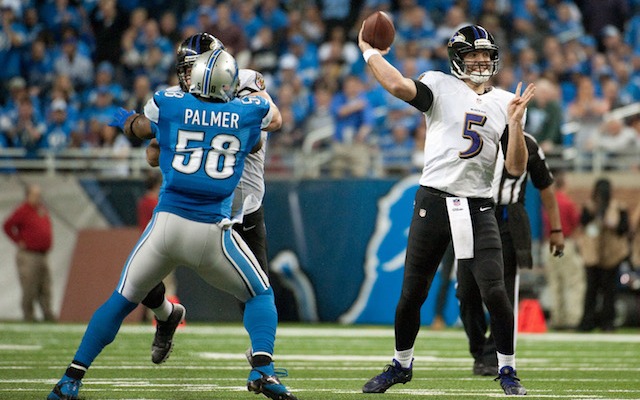 Since being drafted 18th overall by Baltimore in 2008, Ravens quarterback Joe Flacco has never missed a start, but there's a chance that streak could end on Sunday against the Patriots. Flacco has been listed as questionable on the Ravens final injury report, meaning the team feels there's about a 50 percent chance Flacco will play.
Flacco injured his left knee in the fourth quarter of Baltimore's 18-16 win over Detroit on Monday when Lions linebacker DeAndre Levy hit him low. Levy, who looked to be pushed, wasn't flagged on the play and the NFL didn't fine him for the hit.
If Flacco does play on Sunday, he'll be wearing a brace on the injured knee to protect his mildly sprained MCL.
Despite the fact that Flacco was limited in practice all week, Ravens coach John Harbaugh sounded optimistic on Friday that Flacco would be able to play against New England, "He looked good," Harbaugh said, via ESPN.com. "[He] got through all the practices, took his reps and did well."
The Ravens could also be missing running back Ray Rice and linebacker Elvis Dumervil on Sunday, both players are listed as questionable.
Rice is dealing with a thigh injury and was limited in practice on Thursday and Friday after not practicing on Wednesday. Dumervil was a surprise addition to the injury report. The linebacker wasn't listed on the report on Wednesday or Thursday, but showed up on Friday's report with an ankle injury.