Steve Smith out with knee injury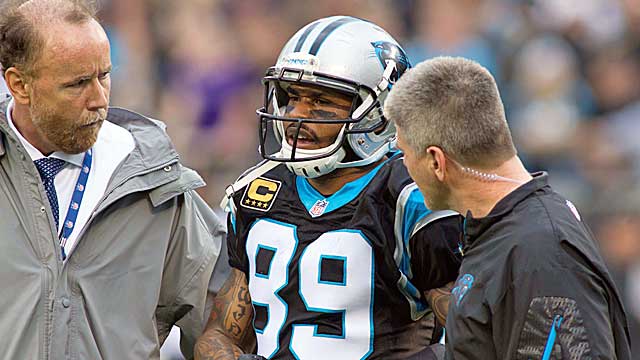 If the Panthers want to take over the NFC South on Sunday against the Saints, they'll have to do it without their best reciver, as Steve Smith is out for the rest of the game with a knee injury.
Smith suffered the injury after posting just a single catch (albeit a long one, even though it didn't produce any points as the next play was a Cam Newton interception) on the day.
Later in the game Smith went to the ground and grabbed his knee on a non-contact play.
The good news for Carolina is they've shown the ability to put up points without Smith. Despite an ugly first half, they've got a 7-6 lead over New Orleans.
The defense is swarming Drew Brees (Greg Hardy's owning Terron Armstead) and has kept New Orleans out of the end zone. A jailbreak run by DeAngelo Williams put the Panthers on the board.
In the second half things could stay sloppy. The weather's not going to cooperate for the second half in Charlotte.