Andy Reid might rest Chiefs starters in Week 17 vs. Chargers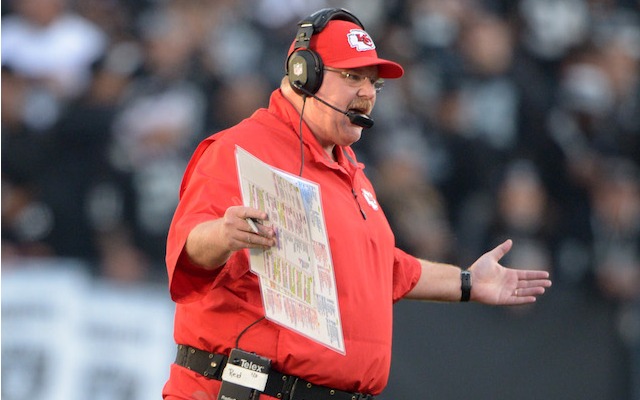 The Pittsburgh Steelers probably aren't going to like this news too much: Kansas City Chiefs coach Andy Reid is thinking about resting his starters in Week 17. Reid said on Monday that he hasn't decided yet if he'll be resting his starters, but he did add that he's had success with the strategy in the past, according to the Kansas City Star.
The Chiefs resting their starters is bad news for the Steelers because Pittsburgh only has one route to the playoffs and that route involves Kansas City beating the Chargers on Sunday. The Steelers would also need the Dolphins and Ravens to lose.
Kansas City quarterback Alex Smith doesn't sound like a guy who wants to be rested, "You want to have some good rhythm, a good taste in your mouth headed into the playoffs," Smith said following Sunday's 23-7 loss to the Colts. "I'd like to get this taste out of our mouth."
Reid might not be worried about the taste in Smith's mouth though. Reid has the luxury of resting his starters this week if he wants to because the Chiefs are locked into the No. 5 seed in the AFC. As the Eagles coach in 2004, Reid rested his starters during the final two weeks of the regular season and Philadelphia ended up making it all the way to the Super Bowl.
The Chiefs might not be the only team in the game on Sunday playing for nothing either. If the Ravens (at Cincinnati) or Dolphins (vs. the Jets) win their games at 1 p.m. ET, then the Chargers will be eliminated from playoff contention. San Diego can only make the playoffs if it beats or ties the Chiefs and both Baltimore and Miami lose. You can check out the playoff scenario's for every team that's still alive.
As for Kansas City, no matter what happens against the Chargers, the Chiefs will open postseason play on the road on Jan. 4 or 5 against either New England, Cincinnati or the Indianapolis team that just beat them on Sunday.