Chiefs WR Dwayne Bowe diagnosed with concussion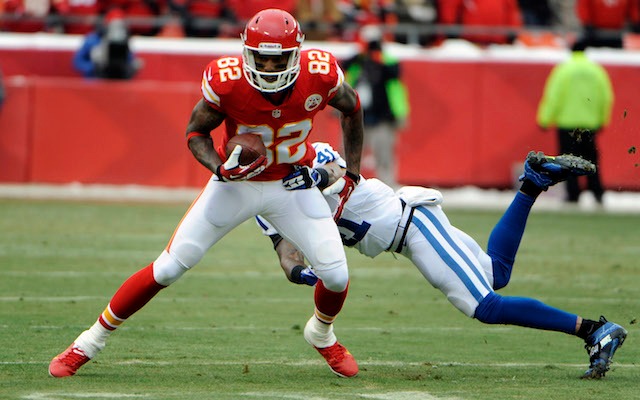 Kansas City Chiefs coach Andy Reid has talked about resting some starters this week and you can bet one of those starters will be Dwayne Bowe. Bowe was listed on the team's injury report on Thursday with a concussion, making it unlikely he'll play against the Chargers.
The Chiefs are locked into the No. 5 seed in the AFC and a win or a loss to San Diego won't change that. Reid has already said he plans to 'mix and match' his starters and backups during the game, although he didn't say if he would be doing more mixing or matching.
It's not clear when Bowe actually suffered the concussion. According to ESPN.com, Bowe took a shot to the head and neck area against the Colts in Week 16 that may have caused the concussion. However, if that's the case, the Chiefs didn't know about it until Thursday because Bowe wasn't listed on the team's injury report on Wednesday.
According to the Kansas City Star, Bowe was on the field for the beginning of practice on Thursday, but later reported experiencing concussion-like symptoms. Bowe, who's the Chiefs second-leading receiver, has played in all 15 of Kansas City's games this season.
If Bowe doesn't play against San Diego, he'll have either nine or 10 days to recover. Kansas City will open up postseason play on the road on either Jan. 4 or 5.