NFL Week 17 Injury Roundup: Eli Manning suffers high ankle sprain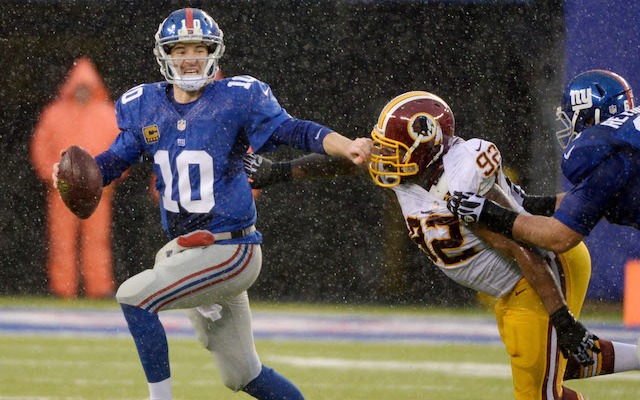 For more injury news and notes from around the league, be sure to check out CBSSports.com's NFL Rumors blog.
Giants QB Eli Manning sprains ankle in win over Redskins
The Giants beat the Redskins on Sunday and they did it despite the fact that quarterback Eli Manning missed the entire second half. Manning sprained his ankle late in the second quarter against Washington when his leg got rolled under Redskins defensive end Chris Baker. Manning was in a boot after the game and said he thinks he'll need a few weeks to heal. "I just felt the guy kind of bend me back and I got my foot stuck underneath him. I know it was hurt a little bit at the time and was hoping it wasn't worse. I'm very happy to hear it's just a sprain," Manning said, via NJ.com. Manning has started in 150 straight games and because New York's season is over, that streak should reach 151 next season.
Dolphins WR Brian Hartline injures knee vs. Jets
Ryan Tannehill struggled in the Dolphins loss to the Jets and that might be because Tannehill didn't have his favorite target: Brian Hartline. Hartline, the Dolphins leading wide receiver going into Week 17, injured his knee in the first quarter of the loss after making a 25-yard catch. Hartline said he heard a 'pop' in his left knee after making the catch. In less than one quarter of action, Hartline caught two passes for 38 yards. Hartline is schedule to have an MRI on Monday, according to the South Florida Sun-Sentinel.
Bears RT Jordan Mills suffers foot injury in loss to Green Bay
Chicago right tackle Jordan Mills missed his first snaps of the season on Sunday and it came at an inopportune time for the Bears. Mills injured his foot in the first quarter in Chicago's loss to Green Bay and didn't return to the game. Mills left the stadium on crutches, according to the Chicago Bears Radio Network. Aaron Rodgers ended the Bears season with a late 48-yard touchdown pass to Randall Cobb, so Mills will have the offseason to heal.