Seahawks CB Richard Sherman: Tom Brady not one of 5 smartest QBs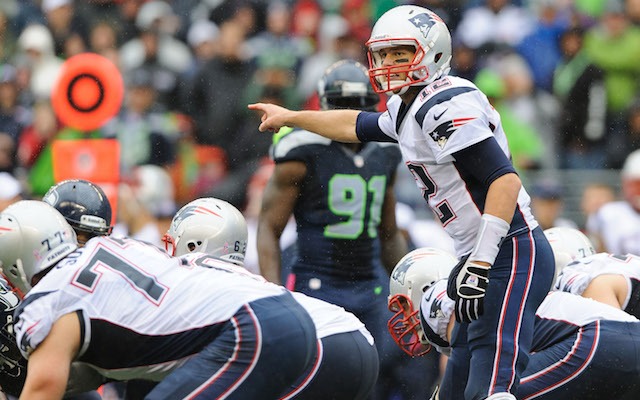 Is Tom Brady one of the five smartest quarterbacks in the NFL? Not if you ask Richard Sherman. The Seahawks cornerback wrote a story for MMQB.com on Friday listing the five smartest quarterbacks in the NFL and Brady didn't make the cut.
Peyton Manning was on the list. Drew Brees was on the list. Tom Brady wasn't on the list. Although Sherman did list Brady in his honorable mention section.
"If this were a top 6, he'd be in there," Sherman wrote. "Tom Brady is one of the hardest to intercept, and still has one of the best arms in the league, but this was the year the young guys took a step forward."
Sherman and Brady have kind of been at odds since last season when Brady said he was going to try and keep the Seahawks noisy fan base quiet and turn Seahawks fans on their own team. The Patriots ended up losing to Seattle and Sherman made a 'U MAD BRO' meme directed at Brady that quickly went viral.
Brady aside, here are the quarterbacks Sherman lists as the five smartest in the NFL, with a brief description from Sherman.
1. Peyton Manning: Nobody else has both the authority to do that within their offense and the understanding to know when it's appropriate. His arm, however, is another story. His passes will be accurate and on time, but he throws ducks.
2. Drew Brees: He makes incredible adjustments during the game. He'll struggle for a stretch and then go to the sidelines and look at pictures and then come back and attack the defense a new way. It's almost like they installed a whole new game plan.
3. Aaron Rodgers: He really plays the game calm. He makes all of his checks, and plays with a double count, which a lot of quarterbacks do to get defenses to show their hand. He can identify defenses and he really spreads the ball out to some great receivers.
4. Russell Wilson: His understanding of the pass rush lanes and his elusiveness is unique. Some of that is about intelligence: Watching film and knowing where the defense likes to attack. He has a tremendous understanding of scheme and zone reads, and play-action fakes.
5. Andrew Luck: As my teammate at Stanford, I saw him call offenses, given three or four plays to pick from, and choose the correct play. He understands the run game and where the mismatches are by counting the linebackers.