Terence Newman: Mike Zimmer is 'best option' to be a head coach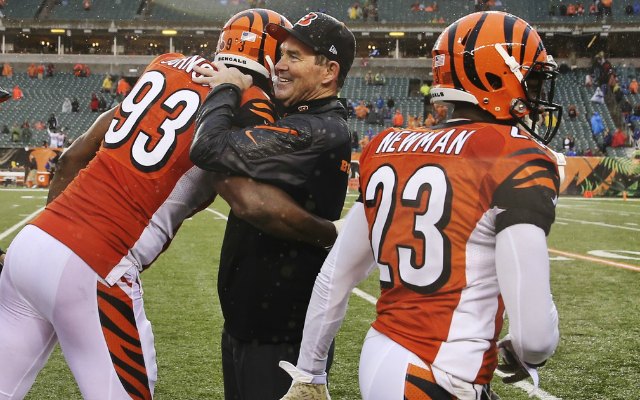 Once again, Mike Zimmer is a head-coaching candidate. (USATSI)
More NFL: Coaching change tracker | Playoff Bracket
The Bengals already have lost their offensive coordinator to Washington, but some observers have surmised that Cincinnati still has its best coordinator in the form of defensive coordinator Mike Zimmer.
Throughout the years, Zimmer has interviewed for a multitude of head-coaching jobs, but for whatever reason -- and the prevailing theory is that he's simply too gruff and honest in his job interviews -- he still hasn't been hired as a head coach.
Bengals cornerback Terence Newman can't understand it either.
That being said, Mike Zimmer is and always will be the best option to be head coach who is not one. #truth

— terence newman (@terencenewman) January 9, 2014
Newman should know. He spent 2003-06 with Zimmer when he was coordinating the Cowboys defense and Newman was just beginning his career, and after the 2011 season, Newman signed with the Bengals, in part because of Zimmer's presence.
Unfortunately for Newman, Zimmer might not be around much longer, because he reportedly has a real chance of landing the job either with the Vikings or the Lions.
But don't be surprised if he's back with the Bengals in 2014. As CBS Sports' Jason La Canfora wrote Sunday, "Zimmer's blunt style and lack of political graces have resulted with him being often a finalist but never a head coach. With the trend sweeping the league more toward younger offensive-minded coaches (like San Diego's Mike McCoy, who had another tour de force outing Sunday afternoon), I tend to think Zimmer will end up on the outside, looking in, again."
Follow Josh Katzowitz on Google+