PHOTO: Patriots QB Tom Brady celebrates win with Charles Barkley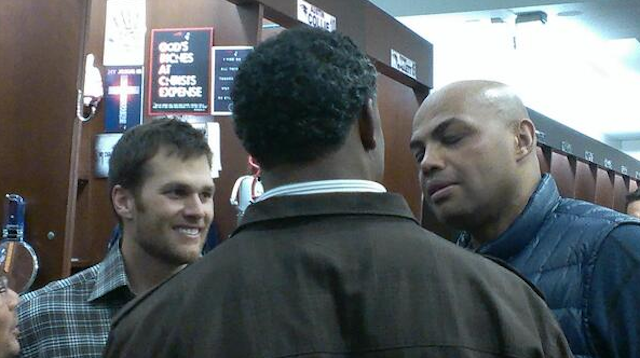 There's two kinds of postgame victory celebrations: there's ones that involve Charles Barkley and there are ones that don't. Guess which one the New England Patriots had on Saturday?
Barkley showed up in the Patriots locker room after New England's 43-22 win over Indianapolis and chatted it up with everyone, including Tom Brady. Barkley was in New England's locker room because apparently, he has a history with Patriots coach Bill Belichick.
"I go way back with Charles, back when I was in Cleveland. He'd come in and play the Cavaliers and all that," Belichick said after the game. "Love Charles -- great guy, great competitor. It's unbelievable to me that 6-4 he led the NBA in rebounding. It's just unbelievable. But that's the kind of competitor and kind of player he is. He's a great guy. It's good to have him here. I'm a big fan of his."
Barkley was asked by reporters, why he never played football, "I played football one day. The worst day of my life," he said, via Masslive.com.
This isn't the first time Barkley's made NFL news in 2014. On Jan. 2, Barkley said the Detroit Lions 'have no idea how to play football.' And no one disagreed with him.
(Wink of the CBS Eye to Nick O'Malley)