The HOF case for Jerome Bettis: Does end of career hurt his chances?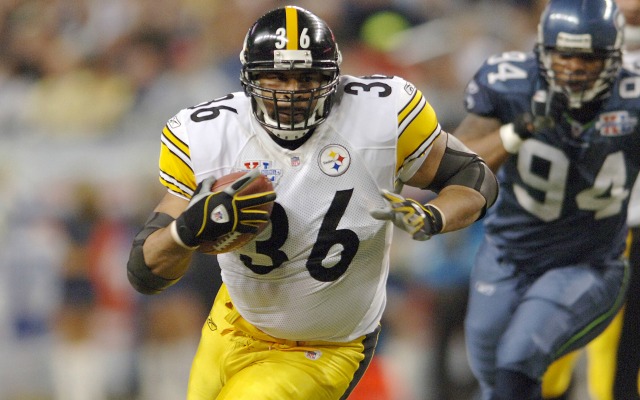 Hall of Fame cases: The receiver trio (Marvin Harrison, Andre Reed and Tim Brown) | Charles Haley | Jerome Bettis | Eddie DeBartolo | Aeneas Williams | Kevin Greene | Tony Dungy | John Lynch | Morten Andersen | Will Shields
The day before the Super Bowl, 46 Hall of Fame voters will enter a conference room somewhere in New York City, and they won't leave until they emerge with the 2014 Pro Football Hall of Fame class. The election will take hours, because each of the finalists will be presented by a media member who extols his virtues and the reason why that particular man should be inducted in with the next class. Then, the debates will begin, and they will rage for hours. Eventually, a Hall of Fame class will be elected, and all will rejoice.
Until then, we're left to ponder the possibilities. On this page during the next few weeks, we'll debate most of those who have a chance to land a spot in Canton this year. At the end of the debate, we'll come up with our own ballot of those who we feel deserve to be enshrined (a quick FYI: I am not a Hall of Fame voter, and neither is anybody else on the current CBSSports.com roster). I can tell you right now that I'll include linebacker Derrick Brooks, defensive end Michael Strahan and offensive tackle Walter Jones on my ballot, so those three won't be among those we debate.
Until then, let's think things through with running back Jerome Bettis.
Nothing but the facts: Bettis played for 13 seasons, his final 10 with the Steelers, but even before he got to Pittsburgh, he showed why he was the No. 10 overall pick of the Los Angeles Rams in 1993. In eight of his first nine seasons, he rushed for at least 1,000 yards. After he was traded to the Steelers before the 1996 season because Rams coach Rich Brooks believed Bettis didn't fit his offensive style -- Brooks wanted more speed from his running backs -- Bettis exploded, combining for more than 3,000 yards in 1996 and 1997. He had injury trouble in three of his final four years in the league before retiring after the 2005 season, but he finished his career with 13,662 yards and 91 touchdowns.
Why he should be elected: Bettis was a durable back who gathered plenty of carries. Consider these stats: in 1993, he finished fifth in the league in touches; in 1994, he was sixth; in 1996, he was seventh; in 1997, he was second; in 1998, he was 10th; in 1999, he was 10th; in 2000, he was fifth; and in his career, his 3,679 touches rank fifth all time. Yes, Bettis -- who made six Pro Bowls in his career -- was a 5-foot-11, 250-pound bruiser, but the fact he could take that kind of pounding every year is deeply impressive. His 13,662 rushing yards is the sixth-best total of all time, and four of the running backs ahead of him are in the HOF, the one who's No. 5 (LaDainian Tomlinson) is a future HOF member, and seven of the eight backs just behind Bettis also have been inducted (the one exception is Edgerrin James, who's not eligible until next year). And if you need one more tiny reason to think of Bettis is a Hall of Famer, he threw three career touchdowns as well.
Why he shouldn't be elected: In his first two years of eligibility, he was stuck behind Marshall Faulk in 2011 and Curtis Martin in 2012. The worry is that in 2013, he was the highest-profile running back, and yet, he still was denied. Maybe the voters didn't view him as a must-have at that point, and that kind of apathy (if it exists) could bleed into this year. Bettis also became awfully ordinary toward the end of his career. In his last four seasons, here were his average yards per carry: 3.6, 3.3, 3.8, and 3.3. Eventually, he became more of a short-yardage specialist, splitting carries in those seasons with Amos Zereoue, Duce Staley, Willie Parker and Verron Haynes. I'm sure it was worth it to hang on in those final years because Bettis finally got his Super Bowl ring, but you have to wonder how much his last couple seasons hurt his case for the HOF.
What a Hall of Fame voter thinks: "Eh. Jerome is going to take some time. A lot of time, in fact. Jerome made progress this past year by getting into the final 10, but making that next jump into the final five is going to be the one. Running backs are kind of marginalized. With a guy like Bettis, the presentation carries some weight. I'm trying to get something new or have the presenter give something to me in a way I hadn't seen or looked at before."
How are his chances: It seems likely that Bettis eventually will get in the HOF, but I'm not sure it happens this year.
Coming Monday:The case for and against Eddie DeBartolo
Follow Josh Katzowitz on Google+