Bonobos offers Jim Harbaugh free pants, $10K to charity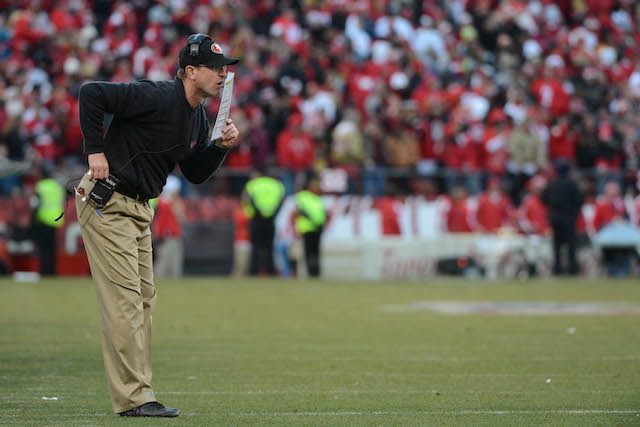 Jim Harbaugh's pants have been a big thing the last week or so. The world learned that his wife was upset because Harbaugh shopped for $8 Wal-Mart khakis and things have spiraled out of control. Bonobos, fine purveyor of chinos, are trying to fix that.
The pants company wrote an open letter to the 49ers coach, offering him 10 free pairs of pants and a $10,000 charitable donation if he'll stop wearing his pleated pantaloons and start sporting some cool trousers.
If Harbaugh's smart, he'll take the Ninjas up on their offer; as someone who wears Bonobos (almost exclusively), it's a good play.
The full text of the letter is as follows:
Dear Coach Harbaugh,
The sports media -- our country's vigilant fashion police -- are alarmed. There is a growing public suspicion that you are housing a family of squirrels in the excess fabric of your khakis. These conditions are not humane -- for you or the squirrels. There is also the issue of rabies.

Your wife is distressed. She is speaking to radio personalities, a profession vociferously averse to pant pleating. Your pant penalties have distracted the Internet from Miley Cirus. Miley Cirus is crying. And football? Football is crying, too. Picture a football crying, Coach.

We're here to help. Our offer to you:

10 pairs of Bonobos' better-fitting chinos on the house
$10,000 to a charity of your choice (so you kind of have to accept)
Your wife's enduring appreciation

What do we get out of it? Well duh. Bonobos is a menswear brand founded on better-fitting pants. This is our

Super Bowl

. To accept, email coach@bonobos.com.

Go 'Niners.

Bonobos

#GetHarbaughInBonobos
Will Harbaugh accept this offer? I mean, he should. He'd be wearing pants that aren't from Wal-Mart and he'd be making a bunch of money for charity. It would almost be a jerk move not to accept.
Here are a few more reasons why he should consider taking Bonobos offer:
Bonobos chinos are very comfortable.
They are not from Wal-Mart.
They run a little large. That means smaller waist sizes. That means better self esteem.
Cool back pocket fabric lining means people will talk about your butt:
THESE PANTS ARE NOT FROM WAL-MART.
Full disclosure: if Bonobos wants to
send me free pants
, I will take them and not think twice. I already spend my hard-earned cash on their chinos anyway.
And Harbaugh should do the same thing. He'll earn some cash for charity, pick up some pants that don't look ridiculous and manage to make his wife happy in one fell swoop.