Clutch decision by Seahawks K Steven Hauschka led to 4th down TD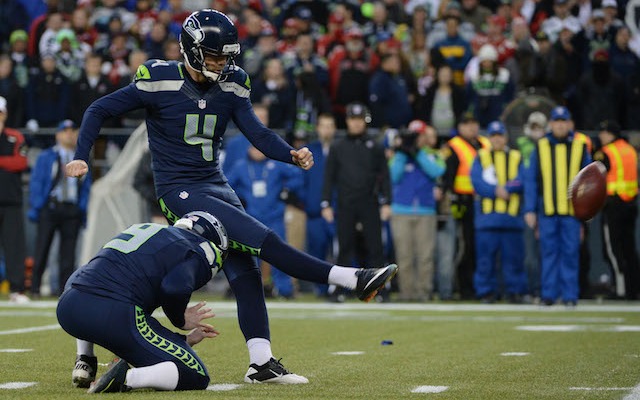 More SB coverage: XLVIII odds | Expert picks | Latest news
One of the biggest plays in Seattle's 23-17 win over San Francisco on Sunday came in the fourth quarter when Seahawks quarterback Russell Wilson hit Jermaine Kearse for a 35-yard touchdown on fourth-and-7.
The scoring play put Seattle up 20-17 over the 49ers and gave the Seahawks the lead for good. However, that play wouldn't have happened if not for Seahawks kicker Steven Hauschka.
Facing a fourth-and-7 from the 49ers 35-yard line, Seattle coach Pete Carroll decided he wanted to send out Hauschka for a 53-yard field goal attempt. The only problem? Hauschka didn't feel comfortable trying the kick.
"I didn't really want to kick it, to tell you the truth," Hauschka told Newsday after the game. "It was into the wind... I didn't think it was the right decision and I let coach Carroll know that."
For Hauschka, it was the first time he had ever told a coach he didn't want to kick a field goal.
"You have to be honest with yourself," Hauschka said. "It was the wind at that moment. Sometimes you can make that, but I felt the wind at that moment was into the face enough to not want to try that kick. I grabbed him on the sideline as I ran out because I could see the flags [on top of the uprights] and I told him, 'We shouldn't kick this.'"
Carroll admitted on Monday that a kicker turning down an opportunity to try a field goal is something he doesn't regularly see. "That's a little bit unusual," Carroll said. "I love the honesty. We were beyond the distance where we had planned to kick the field goal. Hauschka knew that it was outside of the range and that's part of the consideration."
The Seahawks coaching staff had some extra time to think about their options because Seattle called a timeout after the team's third down play -- a 15-yard Wilson pass to tight end Zach Miller that took the Seahawks from midfield to the San Francisco 35.
In the end, Carroll decided to go for it on fourth down and the gamble paid off with a Russell Wilson-sized jackpot. "It was one of the biggest plays, if not the biggest play, of the game," Wilson said of his touchdown pass to Kearse.
Wilson's right. If Hauschka had tried the field goal and missed, the 49ers would have taken over on downs at their own 43 with a 17-13 lead. If Hauschka had tried the kick and made it, the 49ers would have had the ball with a 17-16 lead early in the fourth quarter. If Wilson's pass had been off target, the 49ers would have taken over on downs.
None of that happened though and now the Seahawks are headed for Super Bowl XLVIII thanks to a kicker who knows his limits.
---
Follow John Breech on Google+ or you can even sometimes find him on Twitter