WATCH: Dimitroff, Pioli ride to Senior Bowl practice together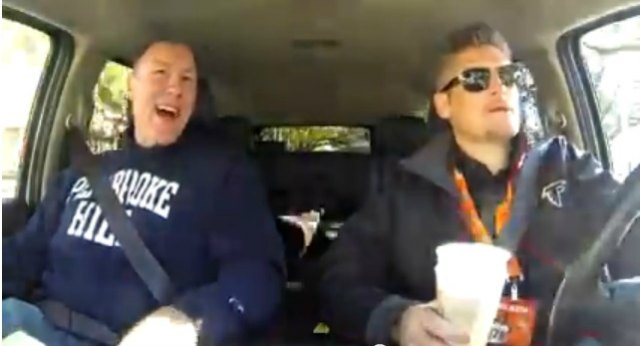 On Tuesday, the Falcons hired former Chiefs general manager Scott Pioli as the team's assistant general manager. Pioli and Atlanta GM Thomas Dimitroff have a long-standing friendship, so when they took a drive together to Senior Bowl practice Wednesday morning, the conversation was comfortable and free-flowing.
And they happened to video record it and upload it to YouTube. For the sake of posterity, I guess, or for some semblance of transparency (although let's face it, they weren't exactly discussing the team's draft plans or who they were going to be looking at that day). Here is that video:
A couple things I gleaned from the recording:
•Both agree that they have work to do. Most of the first minute of the video actually is them talking about how much work needs to be done. So, in case you missed it, these are men who have to get to work. Later in the video, Pioli confirms that he's fired up for the job.
•At one point, Dimitroff's phone makes a noise, and he looks at his screen. "Hey, no texting and driving," commanded the cautious Pioli. Responded Dimitroff: "No, I'm trying to take care of my alarm. Don't be bossing me around." Said Pioli: "That's not bossing. That's saving your life." A bit melodramatic perhaps, but his point is well taken.
•That must be one hot cup of tea Dimitroff is drinking. It steams throughout much of the video.
•At the 3:36 mark , does Pioli refer to himself as Slappy? Because if so, that would be hilarious. He also extols the virtues of Tweetdeck. It doesn't get much better than a guy who's self-deprecating AND technologically-savvy.
Other than that, it's just a couple of dudes talking while carpooling together. Nothing too outlandish, but hey, there's nothing wrong to eavesdrop on somebody else's conversation.
I just wonder what Toddy Haley thinks about all of this.
Follow Josh Katzowitz on Google+