PHOTO: DeSean Jackson gives his mom a kiss after Pro Bowl TD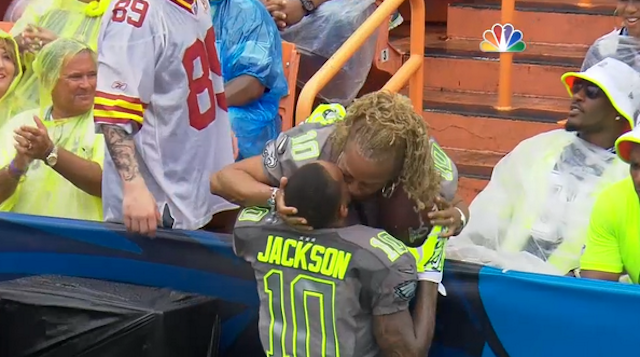 It's been a rough month for Philadelphia Eagles receiver DeSean Jackson. First, the Eagles lost to the Saints in the playoffs. Then Jackson had his home burglarized to the tune of $250,000. Things are starting to look up now though.
Jackson scored the first touchdown of the Pro Bowl on Sunday when he hauled in a 36-yard pass from Colts quarterback Andrew Luck. The best part of Jackson's touchdown? His celebration. As you can see above, Jackson went straight to his mom and gave her a kiss on the cheek. She also got to keep the football.
The score by Jackson gave Team Sanders an early 7-0 lead over Team Rice.
If you're not watching the Pro Bowl, but would like to check the score once in awhile, you can do that here using CBSSports.com's GameTracker.