Super Bowl Media Day's best and weirdest photos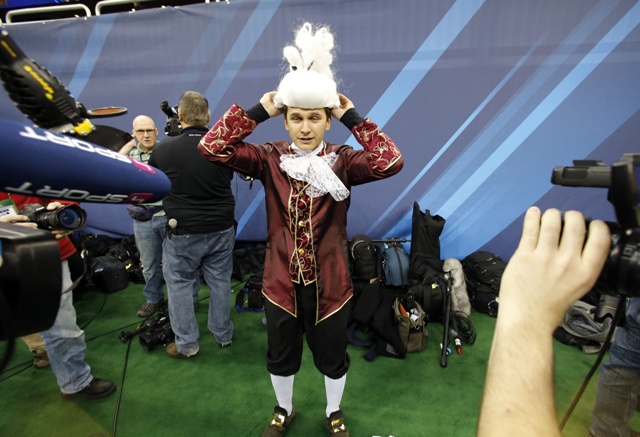 More SB coverage: XLVIII odds | Expert picks | Latest news
Super Bowl Media Day is a complete spectacle, mostly because of the journalists who attend the event and not what the players actually say.
Richard Sherman provided an incredible view of what it's like to sit at a Media Day podium.
Media Day was a blast! pic.twitter.com/5nNwtOQQmv

— Richard Sherman (@RSherman_25) January 28, 2014
When New York City is cut off from the rest of the world, you can probably blame this journalist Bane.
Multimedia journalism has been taken to bold new heights today. pic.twitter.com/XbaV1THCSi

— michael phillips (@michaelpRTD) January 28, 2014
Hollywood appears to be well represented this year as an Anchorman-spoofing duo showed up.
Channel 7 news team from Denver! pic.twitter.com/1mZijM6xJv

— Jesse Spector (@jessespector) January 28, 2014
Super Bowl Media Day staples such as Pick Boy and Waldo are also in attendance.
Right. pic.twitter.com/OK9olosQhq

— Gregg Doyel (@GreggDoyelCBS) January 28, 2014
Where's that idiot named Waldo? Here. pic.twitter.com/KDJuty44gY

— Gregg Doyel (@GreggDoyelCBS) January 28, 2014
If this doesn't epitomize Super Bowl Media Day... pic.twitter.com/GlnPoFcGvq

— Matt Dunn (@MattDunnSNY) January 28, 2014
Drums seem counterproductive to conducting interviews.
Drum war pic.twitter.com/07eQOOsy0e

— Eric Kay (@ekaycbs) January 28, 2014
Not sure which is better...Terrance Knighton's nickname is Pot Roast or the UFC Championship Belt.
This just seems weird.
Randy Moss interviews Wes Welker at Media Day. pic.twitter.com/s9kLbszWuh

— ryan wilson (@ryanwilson_07) January 28, 2014
Don't worry, this is weirder.
Chris Berman just gave Wes Welker a fist bump before asking him a question.

— Andrew DeWitt (@DeWittCBS) January 28, 2014
And this is the weirdest.
Mo Rocca, now interviewing an Eagles cheerleader, told me he doesn't have a pick but wants Seattle to win. pic.twitter.com/5b4KLn5ade

— Jesse Spector (@jessespector) January 28, 2014
Great to see Eric LeGrand attending events like this. He should provide motivation for both teams.
Eric LeGrand is in the house. Very cool. Very inspirational. pic.twitter.com/iHHRN2CefG

— Josh Katzowitz (@joshkatzowitz) January 28, 2014
Who is recording who?
Golden Tate just rolled in wearing Google Glass and a Go Pro. pic.twitter.com/m4DbK4wjPL

— Will Brinson (@WillBrinson) January 28, 2014