Super Bowl XLVIII: You can see Broncos-Seahawks for under $1,500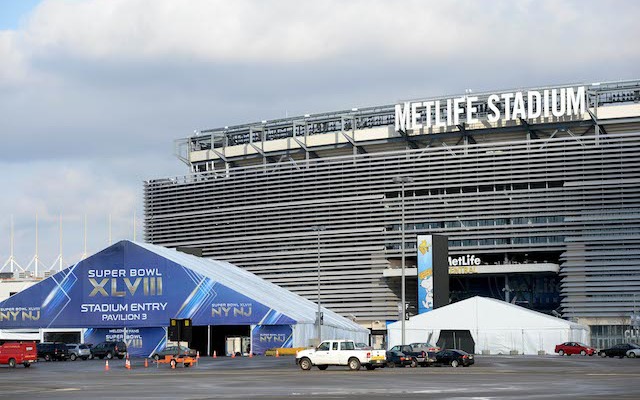 More SB coverage: XLVIII odds | Expert picks | Super Bowl weather | Latest news
NEW YORK -- Do you want to go to the Super Bowl this year? Do you have $1,500? If you answered yes to both of those questions, then I have good news for you: you can go to the Super Bowl because the cheapest tickets to Sunday's game are now going for under $1,500.
Prices have fallen fast over the past 10 days, but don't expect them to fall much further. According to Ticketcity.com, the price of Super Bowl tickets fell 40 percent in the days after the conference championship games, but now it looks like they're back on the rise. In a span of two hours on Thursday morning, the average price increased over 20 percent.
The average price for a ticket to Super Bowl XLVIII is $2,646, which makes it on average, the second-cheapest Super Bowl of the past eight years. The cheapest game came last year when the average cost of a ticket to see Baltimore play San Francisco was $2,380.
The average price of a ticket over the past 48 hours is $2,246, according to Seatgeek.com. The $2,646 number above is the average price of all tickets sold overall.
Apparently the 12th man plans on being at MetLife Stadium. SeatGeeks says that 17 percent of the tickets that have been purchased on the secondary market have been in the state of Washington. New York has bought 21 percent of the tickets and Colorado has purchased eight percent.
For people that want to go to the Super Bowl, but don't have $2,246 or $1,500, you're not completely without hope -- all you have to do is give Lady Luck some whiskey and hope she's drunk enough to help you win a contest.
One of those contests involves standing in front of a Times Square billboard for five hours. Mountain Dew will be giving away five pairs of tickets on Thursday night using that strategy. All you have to is text a code to Mountain Dew, the catch is that the code is only found on the American Eagle billboard in Times Square.
You can also win tickets through Marriott, Bud Light and Gillette. Basically, if you can name a company that sponsors the NFL, there's a good chance they're giving away tickets.
If you're the unlucky-type who never wins contests though, then it looks like you'll just have to pay the prices below.
Here's the lowest ticket price on Ticket City for Super Bowl XLVIII as of 3:30 p.m. ET Thursday. The second price is the lowest price on the NFL ticket exchange run by Ticketmaster. The third price is the lowest price currently found on Stubhub. Remember, this is the price for the cheapest ticket in the stadium and keep in mind, ticket prices change often.
Super Bowl XLVIII ticket prices
Seattle vs. Denver: $1,443 -- $1,601 -- $1,465