Malcolm Smith returns Peyton Manning INT 69 yards, wins MVP
UPDATE: Smith was named MVP of Super Bowl XLVIII and then promptly had his media session interrupted by a 9/11 truther.
More SB coverage: Seahawks win, 43-8 | Photos | Numbers | More news
The Broncos had one of the best offenses in NFL history. Certainly doesn't seem like it through the first two quarters of Super Bowl XLVIII.
Particularly when the Seahawks are getting pressure on Peyton Manning, when center Manny Ramirez is snapping the ball when Manning isn't ready, and when the Broncos have a hard time holding on to the ball in its hands.
Or when this happens: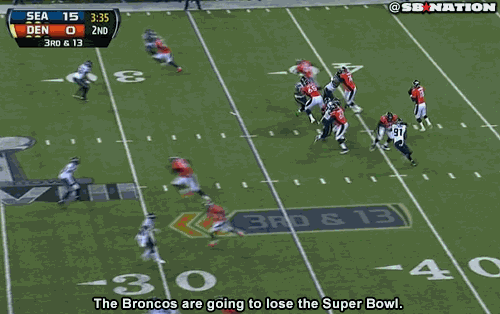 Yep, that's Seahawks linebacker Malcolm Smith intercepting the ball and running it back for the 69-yard touchdown. It's the longest interception return in the Super Bowl since Tracy Porter ran one back 74 yards in Super Bowl XLIV. Against, yep, Peyton Manning.
Manning hasn't been great, but you'd be hard-pressed to blame that interception solely on him.
Follow Josh Katzowitz on Google+