VIDEO: Johnny Manziel vs. 49ers QB Colin Kaepernick in the 40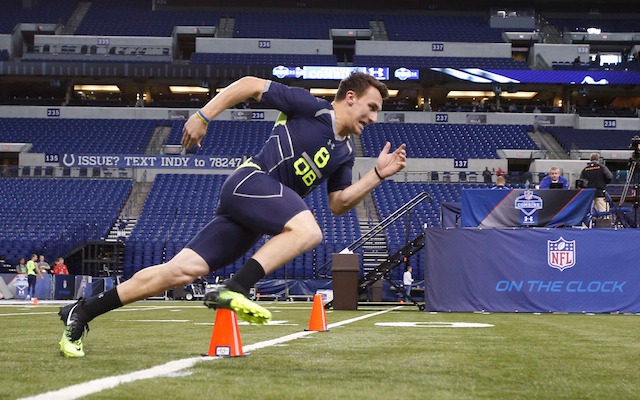 More Draft: NFL Mock Drafts | Prospect Rankings | NFL combine workout results
Texas A&M quarterback Johnny Manziel ran the 40-yard dash on Sunday and he was fast, but not Colin Kaepernick-fast.
After Manziel finished his run, NFL Network combined Johnny Football's 40 with Kaepernick's 40 from 2011 and as you can see below, Kaepernick is slightly faster. Manziel's 40-time on Sunday was officially clocked at 4.68, his fastest unofficial time was 4.56. In 2011, Kaepernick's official time was 4.53.
Manziel was nowhere near Michael Vick's combine-record for a quarterback. In 2001, Vick ran a 4.33. As recently as last May, Vick said that he's still the 'fastest quarterback in the NFL' and that he could probably still run a 4.4.
(Wink of the CBS Eye to Bleacher Report)