Is DeSean Jackson in danger of being released by the Eagles?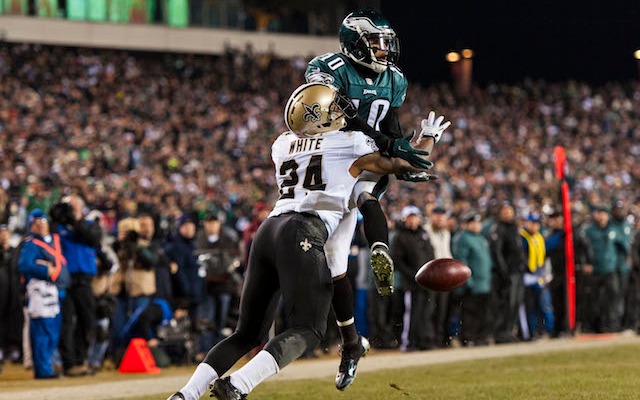 More NFL offseason: Mock Drafts | Prospect Rankings | Pro Days | Top free agents
Eagles receiver DeSean Jackson is coming off the best season of his career. During Philadelphia's run to the playoffs and the NFC East title, he carved out career highs with 82 catches, 1,332 yards and nine touchdowns. Pretty darn good, right?
Yes, but that doesn't mean Jackson isn't in danger of losing his job.
Geoff Mosher of CSNPhilly.com told PFT Live on Wednesday that Jackson could be "one false step" away from getting cut.
One reason why might be because Jackson, who just finished the second year of the five-year, $48.5 million contract he signed before the 2012 season, talked about wanting a new deal in January, saying, "I definitely feel it's something deserving. We'll see how that plays out. Hopefully, we can work things out smoothly and not have to worry about anything out of the ordinary."
Plus, as PFT points out, there's a way to release him that wouldn't cost the Eagles that much money, writing, "Dumping him with a post-June 1 designation would result in a cap hit of only $2 million in 2014 and $4 million in 2015. It also would create $10.5 million that could be spent in 2014 or later on other players, like perhaps quarterback Nick Foles, who'll be eligible for a new deal after the coming season."
Also, there have been times when Jackson didn't get along so well with receivers coach Bob Bicknell. For example ...
So, that's the theory on why Jackson could be cut. Will it happen? In my opinion, it's unlikely, because Jackson still is a No. 1 receiver.
But if Jackson draws the ire of Kelly again or continues to crow about wanting a new deal -- even though 2013 was actually the first season in which he caught more than 62 passes in a year -- perhaps the team will figure it's better just to get rid of him rather than pay him a ton more money.
It probably won't happen, but with free agency rapidly coming our way, it's something to consider.