2014 NFL Mock Draft: Rams make bold play for WR/OL combo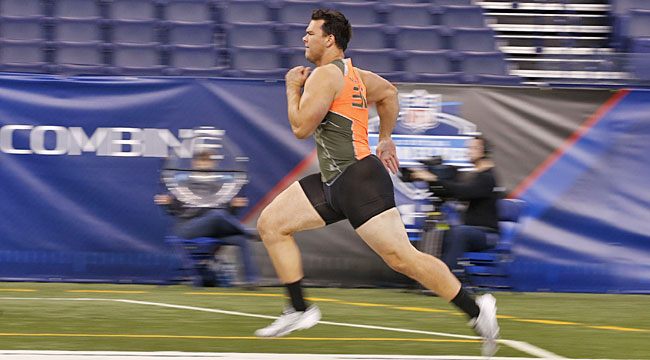 More NFL offseason: Mock Drafts | Prospect Rankings | Pro Days | Top free agents
1. Houston Texans -- Blake Bortles, QB, UCF -- Still can't shake the feeling that Bill O'Brien is leaning towards Bortles up top. There's a lot of time left in these mocks and I'm sure at some point I'll go in a different direction. But for now, the Texans are taking the prototypical quarterback. Bortles, by the way, probably would've been pretty good in Gary Kubiak's system. Ironically enough.
2. St. Louis Rams (via Washington Redskins) -- Sammy Watkins, WR, Clemson -- The Rams have a great setup for this draft. They can auction the pick if Jadeveon Clowney falls (or if someone wants a quarterback) or they can grab their top option at wideout or offensive line. (They could also take Clowney if they want.) Watkins is an elite-level talent and one of the rare wideouts worthy of this high a selection. With line depth in this draft, St. Louis can gamble.
3. Jacksonville Jaguars -- Jadeveon Clowney, DE, South Carolina -- Quarterback's a need and Teddy Bridgewater is intriguing but how can the Jags pass up on Clowney falling into their lap? Answer: they can't.
4. Cleveland Browns -- Johnny Manziel, QB, Texas A&M -- Me doth think the Browns protest a bit much about their lack of interest in Mr. Football.
5. Oakland Raiders -- Teddy Bridgewater, QB, Louisville -- The Raiders are desperate for talent all over the place and Bridgewater being pro ready helps GM Reggie McKenzie in a big way when it comes to selling his regime to the bossman.
6. Atlanta Falcons -- Greg Robinson, OT, Auburn -- The Falcons need to beef up their run and pass game and Robinson will help solve that problem quickly. He's a mauler when creating running lanes and needs work on his pass pro, but he'll have time with Sam Baker at least being capable.
7. Tampa Bay Buccaneers -- Khalil Mack, OLB, Buffalo -- It's possible Mack, who shredded the 40 at his pro day, doesn't fall this far. And the Bucs could use some help on the offensive side of things. But it's tough to pass up a talent like Mack here.
8. St. Louis Rams (MOCK TRADE with Minnesota Vikings) -- Jake Matthews, OT, Texas A&M -- With no quarterbacks on the board for the Vikings, they're willing to move down for a third (or more; that's not the point really) from the Rams, who have plenty of ammunition to jump up and grab one of the best two tackles in this draft. Jeff Fisher's tight with the Matthews family (he coached Bruce Matthews) and this would be an incredible haul, once again, for St. Louis.
9. Buffalo Bills -- Anthony Barr, OLB, UCLA -- Weapons for EJ Manuel should be a serious consideration here, but they also need to beef up the linebacking corps and continue to generate a pass rush. Barr is raw but he could be a dominant pass-rushing force at the NFL level if properly refined.
10. Detroit Lions -- Mike Evans, WR, Texas A&M -- How hilarious is it that Lions fans are pining for their team to take a receiver in the first round again? Just like old times. And there are other pressing needs but pairing Evans with Calvin Johnson is potentially unstoppable.
11. Tennessee Titans -- Justin Gilbert, CB, Oklahoma State -- With the Lions surprisingly passing on a corner at 10, the Titans get their pick of the defensive back class in order to replace Alterraun Verner. Gilbert's the guy.
12. New York Giants -- Eric Ebron, TE, UNC -- Rueben Randle can probably step up and take over Hakeem Nicks' role but the Giants still need some offensive help. Ebron can significantly boost their versatility on offense.
13. Minnesota Vikings (MOCK TRADE with St. Louis Rams) -- Louis Nix, DT, Notre Dame -- Rick Spielman has an affinity for the Irish it seems and there's nothing wrong with improving your ability to attack quarterbacks by beefing up the middle of your line. (Ask the Lions how that works out.)
14. Chicago Bears -- Aaron Donald, DT, Pittsburgh -- Sticking with this one from the first time around. Donald is uber-productive and measures up on everything except for size.
15. Pittsburgh Steelers -- Ha-Ha Clinton Dix, S, Alabama -- One half of the deep defensive backfield is locked up for the foreseeable future thanks to Troy Polamalu's extension. Why not pair him with a thumping speedy safety in HHCD.
16. Dallas Cowboys -- Timmy Jernigan, DT, FSU -- This defense has to get some power up front in order to be effective from the edges. Jernigan's a powerful, fast tackle who has upside especially under Rob Marinelli.
17. Arizona Cardinals (MOCK TRADE with Baltimore Ravens) -- Taylor Lewan, OT, Michigan -- When Lewan started falling, the aggressive Steve Keim's eyes lit up and he made a play in front of potentially tackle-needy teams to grab Lewan here.
18. New York Jets -- Odell Beckham, Jr., WR, LSU -- Do the Jets have any choice but to get weapons for Geno Smith? Sure doesn't seem like it. Beckham's a speedster who blew up the combine and can give the Jets some big-play potential.
19. Miami Dolphins -- Zach Martin, OT, Notre Dame -- And this is where Dennis Hickey wishes he'd been aggressive and gone after Lewan instead. The consolation prize isn't terrible, though, in terms of getting Martin back. Has there ever been a more obvious draft pick based on need than the Dolphins first rounder this year?
20. Baltimore Ravens (MOCK TRADE with Arizona Cardinals) -- C.J. Mosley, LB, Alabama -- Ozzie Newsome loves him some Alabama guys. And he wisely spied an opportunity to trade down, acquire some draft picks and still get the same player he would've gotten at 16.
21. Green Bay Packers -- Darqueze Dennard, CB, Michigan State -- The last few picks are really showing how deep this draft is. Dennard could go as high as 10 to the Lions but when he falls this far there's no way Ted Thompson can't pounce on him to beef up the secondary.
22. Philadelphia Eagles -- Calvin Pryor, S, Louisville -- With Patrick Chung likely out in Philly, the Eagles have to beef up the back end of their passing attack. Pryor is a steal at this point, a speedy safety who can hit.
23. Kansas City Chiefs -- Marqise Lee, WR, USC -- Alex Smith needs more weapons and Lee's a strong route runner with good hands who can step in and make an impact right away on the Chiefs passing game.
24. Cincinnati Bengals -- Dee Ford, DE, Auburn -- With Michael Johnson heading off into free agency, Cincy needs to add another impressive, cheap pass rusher to put across from Carlos Dunlap. Ford fits that role.
25. San Diego Chargers -- Kyle Fuller, CB, Virginia Tech -- Aside from the good games against Peyton Manning, the Chargers were a pretty terrible defensive team. They need help on offensive line as well, but beefing up a bad secondary is critical.
26. Cleveland Browns (from Indianapolis Colts) -- Brandin Cooks, WR, OSU -- The $100,000 winner is a high-character kid who can make an impact from the get go with whoever drafts him. Paired with Josh Gordon, Jordan Cameron and John Football and all of a sudden the Browns offense is kind of interesting.
27. New Orleans Saints -- Jason Verett, CB, TCU -- The Saints use the draft to keep boosting their secondary by grabbing Verrett a year after nabbing Kenny Vacarro.
28. Carolina Panthers -- Cyrus Kouandjio, OT, Alabama -- With Kouandjio's medicals checking out (via CBS Sports NFL Insider Jason La Canfora) there's a good chance he might not even last this long. But he's a hog molly who fits what Dave Gettleman wants … and more importantly, needs.
29. New England Patriots -- RaShede Hageman, DT, Minnesota -- With Vince Wilfork getting older and dealing with a major injury last year, the Patriots need to restock the middle of their defensive line. Hageman ran a 5.02 40 at the combine despite being 6'6" and weighing well over 300 pounds.
30. San Francisco 49ers -- Kelvin Benjamin, WR, FSU -- Benjamin isn't the most refined wide receiver but he's a freakishly fast and tall target for Colin Kaepernick.
31. Denver Broncos -- Kony Ealy, DE, Missouri -- Despite being incredibly close to a Super Bowl championship, the Broncos have plenty of holes to fill, particularly on defense. Ealy might be a steal at this point and can immediately improve their pass rush.
32. Seattle Seahawks -- Jace Amaro, TE, Texas Tech -- Still think the Seahawks want to figure out how to open up the offense and stretch the field. Adding a pass-catching target (who can improve as a blocker) in Amaro does that.