NFL Rumors: Michael Vick drawing interest from Jaguars and Vikings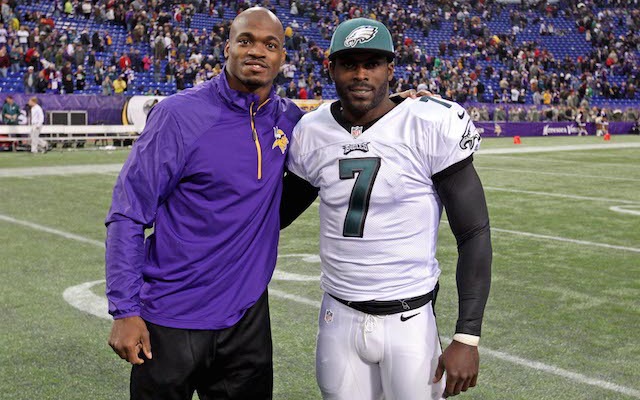 A lot happened in the NFL on Thursday. We learned that every team except for the Eagles wants to sign Michael Vick and we also learned that the Seahawks likely won't re-sign Michael Bennett before free agency starts on March 11. Also, a few guys were cut.
Trying to keep tabs on everything that happens in the NFL on any given offseason day can be overwhelming sometimes, so we've decided to put it all in once place for you.
That place is here.
Here's the news, notes and rumors that you may have missed from March 6.
The Eagle hasn't landed
CBS Sports NFL Insider Jason La Canfora reported on Wednesday that the Eagles have zero interest in keeping Michael Vick on the team so that begs the question, where will Vick end up?
La Canfora believes that Vick's most likely landing spot is with the Jets. From the sound of it though, Vikings running back Adrian Peterson would like it a lot better if Vick ended up in Minnesota. Peterson tweeted on Thursday that he thinks Vick would make the Vikings a playoff team. Vick-to-the-Vikings may not be as far-fetched as it sounds. According to ProFootballTalk, if Matt Cassel doesn't end up re-signing with Minnesota, the Vikings would be 'very interested' in Vick.
If Vick doesn't end up in Minnesota, NFL.com has reported that the Jaguars are interested in the 33-year-old quarterback. The Bills and Raiders could also be options for Vick.
Hit the road Jack
Between now and March 11, a lot of players are going to be cut. It happened on Tuesday, it happened on Wednesday, it happened on Thursday and it will happen on Friday. Among the players released on Thursday was Colts center Samson Satele, the move will free up $4 million in cap space for Indianapolis. The seven-year veteran, who signed with the Colts in 2012, started 24 games over two seasons for Indianapolis.


The Colts wild-card opponents in 2013 also made a couple of moves on Thursday. Kansas City cut linebacker Robert James and tight end Dominique Jones.


The Vikings also made two moves. Minnesota released wide receiver Greg Childs and defensive tackle Letroy Guion. Childs was a 2012 fourth-round pick who has been limited by injuries. As for Guion, he's started 28 games over the past two seasons. Guion's release should free up almost $4 million in cap space for Minnesota.
Signings
Within an hour, DE Ropati Pitoitua received a new deal w the #Titans, and a baby boy - Ryder Ropati Pitoitua pic.twitter.com/kXsTMwM6m5

— Jim Wyatt (@jwyattsports) March 6, 2014
Rumors
Photo of the day
Arizona's Darnell Dockett has signed this baby alligator to a life-long deal, her name is honey.