NFL rumors: Hakeem Nicks now says he wants a long-term deal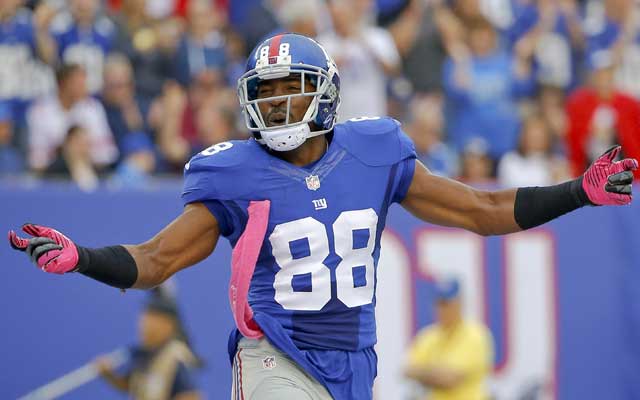 More NFL offseason: Mock Drafts | Prospect Rankings | Pro Days | Top free agents
As we make our way toward free agency on Tuesday, here were the news, reports and rumors that happened on Sunday.
Coming off the news that Giants receiver Hakeem Nicks wouldn't mind signing a one-year, prove-it deal in order to make himself a more attractive free agent next offseason, Nicks would like to amend that theory.
Speaking to ESPN's Josina Anderson, here's what Nicks said: "Ideally this is what I want: I want to go to a team where I'm the missing link. There are a number of teams that I have my eye on once I hit the market. I know if I went to a place like Indianapolis I would be dangerous with a quarterback like Andrew Luck. I can see myself catching passes from Cam Newton or even Philip Rivers. Players have already started to reach out to me from other teams saying they would love for me to come join them. I just want to make it clear that I want a long-term deal and I want to be happy. I'm excited about talking to teams and making it work."
For the record, the Colts are about $38 million under the 2014 salary cap, while the Panthers are only about $7 million under (unless they release Steve Smith) and the Chargers are only $5 million under.
But considering how mediocre he's played the past two years, it's fair to say that Nicks might not get that long-term deal quite yet. Instead, he might have to sign with somebody for a year in order to rehab his image.
Hit the road, Jack
According to CBSSports.com's Jason La Canfora, Vikings defensive end Jared Allen will not be back in Minnesota. Allen has whittled his free agency wish list down to five teams, but the Vikings are not one of them.
With a 2014 salary cap number that was nearly $15 million, the Jets did the expected Sunday and released cornerback Antonio Cromartie. Said coach Rex Ryan: "Cro is one of the finest athletes I've ever coached. He was willing to contribute wherever the team needed him to win games, be it defense, special teams or offense. He has a passion and enthusiasm for the game and I wish him and his family the best."
Got to get paid
With the assumed loss of defensive end Jared Allen, the Vikings made a big play for another defensive end, reportedly signing Everson Griffen to a five-year deal worth $42.5 million (with $20 million guaranteed). Griffen only has 17.5 sacks in his first four seasons in the league, but apparently, he's been impressive enough for Minnesota to re-sign him to a huge deal.
Linebacker Jasper Brinkley will return to the Vikings on a one-year deal, according to Fox Sports' Mike Garafolo. Brinkley spent the first four seasons of his career in Minnesota, but he signed with the Cardinals before the 2013 season. He was released by Arizona at the end of last month.
Rumors
The Ravens apparently are feeling more optimistic they can re-sign left tackle Eugene Monroe, according to the Baltimore Sun. If Monroe is signed, the paper expects that it would cost the team between $8.5 million and $9 million per season.
I'm not sure I understand why the Texans would be interested in acquiring Patriots backup quarterback Ryan Mallett for, say, a second-round pick. It sounds like it's not going to happen anyway, but it's a little bit of a mystery why Mallett's name emerges as potential trade bait every year.
With the Saints already cutting receiver Lance Moore and running back Darren Sproles in order to save money on the salary cap, there have been rumblings that running back Pierre Thomas could be the next to go. He's due $2.5 million in base salary and another $400,000 in bonuses, and he counts $2.9 million against the 2014 salary cap (and would leave behind no dead money if he was to be released). But so far, Thomas' agent, Lamont Smith, says everything is status quo for now.
Panthers cornerback Mike Mitchell, coming off a season in which he recorded a career-high four interceptions along with 72 tackles and two forced fumbles, has plenty of suitors, according to the Charlotte Observer. Among those who are reportedly interested include the Redskins, Bears, Eagles, Broncos and Falcons with Washington and Philadelphia showing the most interest.
Photo of the day
With the death of Lions owner William Clay Ford at the age of 88, here's a photo of him from 1953, via Getty Images.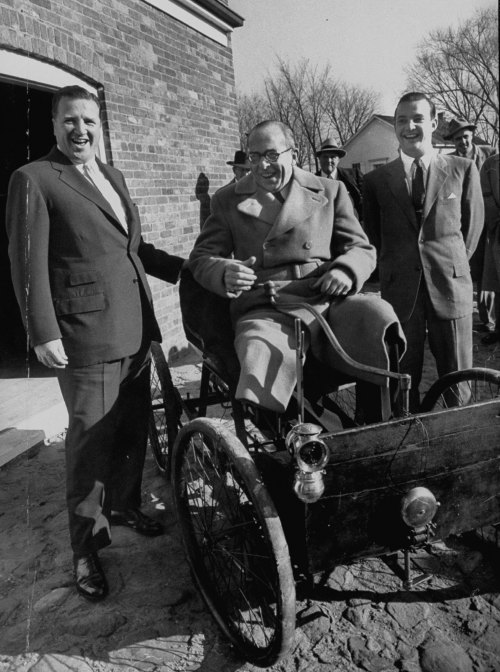 In the picture, King Paul of Greece is sitting in one of the Ford company's first cars, called the Quadrangle. William Clay Ford is standing to the right, while Henry Ford II is to the left.
Tweet of the day
More on Ford.
Team president Tom Lewand: "No owner loved his team more than Mr. Ford loved the Lions." http://t.co/l4IVDYPEVg pic.twitter.com/D7Y3tn1aO7

— Detroit Lions (@DetroitLionsNFL) March 9, 2014