RB Adam Muema tweets that he won't be playing football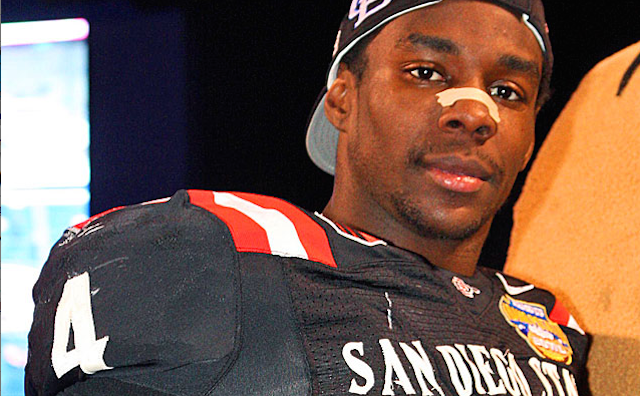 The bizarre story of former San Diego State running back Adam Muema took another turn on Wednesday when Muema took to Twitter to announce that he won't be playing football anymore.
I will NOT be playing FOOTBALL! pic.twitter.com/a3cStf3XMb

— Adam Muema (@So_Lucrative) March 13, 2014
Muema's belief is that the world is going to end, so there's no reason to play football. The scripture cited in the tweet above is generally regarded as apocalyptic in nature.
I Don't believe there would be a Football season next yr! Unless we're going to a new planet Earth!

— Adam Muema (@So_Lucrative) March 11, 2014
Muema became a national story in February when he left the NFL combine early because God told him that's what he should do. After leaving the combine, Muema flew from Indianapolis to Ft. Lauderdale, Fla. Muema landed in Ft. Lauderdale on Feb. 23, then spent the next five days at the Ft. Lauderdale airport before finally calling a friend to pick him up.
On Feb. 28, Muema flew home to Los Angeles.
Before the combine, Muema was NFLDraftScout.com's 30th rated running back and had been given a fourth- to seventh-round projection from the NFL Advisory Committee. With everything that's happened though, it's highly unlikely that Muema, the fourth all-time leading rusher in San Diego State history, will ever make it to the NFL.