PHOTO: Jets coach Rex Ryan takes shots with fans
Even Rex Ryan feels sorry for Cleveland Browns fans. Ryan was at a restaurant in Orlando on Sunday when one of the customers told him that the Browns were going to win the Super Bowl next season. Instead of laughing at the guy, Ryan bought him alcohol. Lots of it.
According to the fan's Instagram posting, Ryan bought three rounds of shots and drank at least one shot with the group.
The Ryan family seems to be enjoying the offseason. At the NFL Combine in February, Rex and Rob Ryan made their way to a local Hooters in Indianapolis and took pictures with several of the Hooters girls who were working at the restaurant.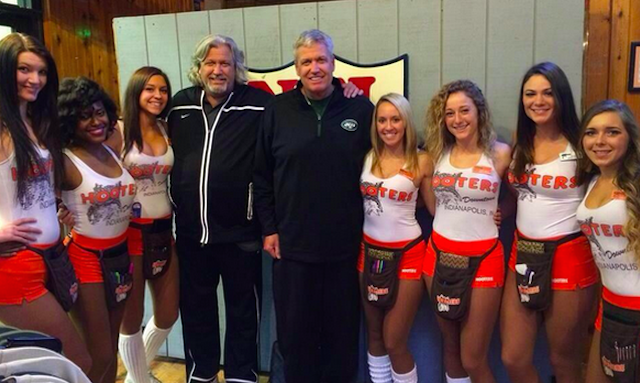 Three weeks after the combine, Rob was spotted at a St. Patrick's Day celebration in New Orleans. He seemed to be enjoying himself.
How Rob Ryan is celebrating St. Patrick's Day. pic.twitter.com/LpUr5QkpgJ

— Patrick Crawley (@pecrawleynfl) March 15, 2014
The picture at the top of the page was taken on Sunday in Orlando, where Rex is for the NFL owners meetings this week. We know Rex is enjoying himself because that's the only way to explain his choice of wardrobe.
Just passed Rex Ryan at owners meeting. He was wearing a shirt that said "will sell wife for beer." P.S. His wife was with him. True story.

— Scott Bair (@BairCSN) March 23, 2014
(Wink of the CBS Eye to Busted Coverage)