Agent's Take: Did Broncos mortgage future with spending spree?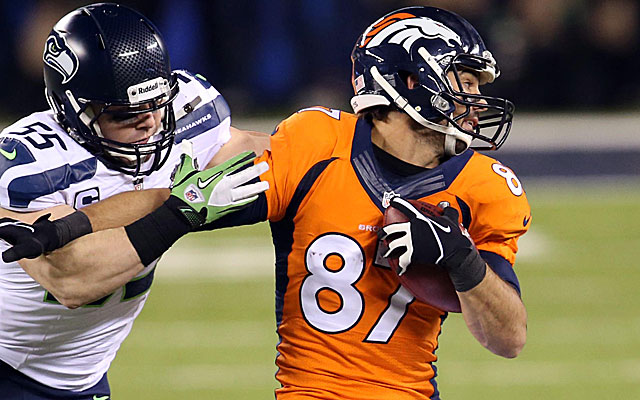 More NFL offseason: Mock Drafts | Prospect Rankings | Pro Days | Top free agents
The Denver Broncos responded to their lopsided 43-8 loss to the Seattle Seahawks in Super Bowl XLVIII by being aggressive in free agency. The team is clearly in a win now mode because the championship window with 38-year-old Peyton Manning is limited. Manning is entering the third year of the five-year, $96 million contract he signed to join the Broncos in 2012. Denver should be Super Bowl contenders until Manning retires. How long he plays remains to be seen.
Cornerback Aqib Talib ($57 million/6 years), safety T.J. Ward ($22.5 million/4 years) and defensive end DeMarcus Ware ($30 million/3 years) were signed during the first 24 hours of free agency to shore up the defense. The signings are designed to create a more balanced team as arguably the most prolific offensive attack in NFL history carried a defense that ranked 19th in total defense and 22nd in scoring defense in 2013.
The priority placed on improving the defense comes at a sacrifice to the offense. Wide receiver Eric Decker and offensive guard Zane Beadles signed with the Jets and Jaguars, respectively. Running back Knowshon Moreno, who was fifth in the NFL in yards from scrimmage (1,586 yards) and had 13 touchdowns in 2013, signed with the Dolphins on Thursday. Executive vice-president of football operations John Elway and head coach John Fox have left the door open for his return, presumably on an extremely team-friendly contract.
Wide receiver Emmanuel Sanders received a three-year, $15 million deal several days after the defensive acquisitions to help combat the loss of Decker. Andre Caldwell, who was Denver's fourth wide receiver in 2013, was also retained. The offensive line gets a lift with All-Pro left tackle Ryan Clady's return. He was lost for the 2013 season after two games with a Lisfranc foot injury.
A majority of teams make roster moves without giving much regard to the future salary-cap ramifications when believing they have a window of opportunity to win the Super Bowl. Let's look at whether the Broncos have fallen into this trap by mortgaging the future with their free agency spending spree.
Contract structure of free-agent signings
The Broncos structure their most lucrative contracts with modest signing bonuses and salary guarantees in the early years of the deals. Most of the guarantees after the first year of a contract are conditional guarantees that allow the Broncos to exit the deal without adverse cap consequences. This contract structure is the brainchild of former agent Mike Sullivan, who was hired by Elway in 2012 to manage the salary cap and negotiate player contracts. Sullivan ran Octagon's football division for over a decade where Aaron Rodgers and Marshawn Lynch were among his clients. Talib, Ware, Ward and Sanders' contracts have this structure. Below are details and the long-term salary-cap implications for each deal.
Aqib Talib: On the surface, it appears as if the Broncos made a huge financial commitment to 28-year-old Talib because his six-year, $57 million contract contains $25.5 million in guarantees. The Broncos giving a contract averaging $9.5 million per year to a cornerback isn't out of the ordinary considering the team paid Champ Bailey $33 million for three seasons (2011-2013) when he was 33 to 35 years old.
Talib's guaranteed money consists of a $5 million signing bonus (prorated on the cap at $1 million through 2018); $2 million seventh-day-of-the-league-year roster bonus (March 17); fully guaranteed $4.5 million 2014 base salary; $5.5 million 2015 base salary (guaranteed only for injury); and $8.5 million 2016 base salary (guaranteed only for injury). Talib's 2015 base salary would become fully guaranteed on the third day of the 2015 league year. His 2016 base salary would become fully guaranteed if he is on Denver's roster on the third day of the 2016 league year.
There are also per-game roster bonuses totaling $500,000 ($31,250 per game) in the first three years of the deal (2014-16). The primary benefit of the roster bonuses is they provide the Broncos some financial relief if he is injured. Talib has averaged slightly fewer than than 13 games per season in his six-year NFL career. (The $31,250 is earned only when Talib is on the 46-man active roster for a game.)
Since only $11.5 million is fully guaranteed at signing, all in 2014, the Broncos can release Talib with minimal cap consequences before the third day of the 2015 league year when his 2015 base salary becomes fully guaranteed if he is a disappointment or the off-the-field issues that plagued him in Tampa Bay reoccur. There would $4 million in dead money (a charge for a player no longer on the roster) where the Broncos would gain $3 million in cap space after paying Talib $12 million for one season in Denver.
It is likely that Talib's deal is for $27 million over three years where he'll be released in 2017 when his cap number is $12 million unless he is playing at a high level. The Broncos would pick up $10 million of cap room by releasing Talib at that time.
DeMarcus Ware: Ware, who will turn 32 before the start of the 2014 season, receiving a three-year, $30 million contract (with $16 million fully guaranteed upon execution) is one of the most surprising free-agent signings. He is the NFL's only pass rusher making at least $10 million per year on a contract signed after turning 30.
Five million dollars of the $13 million Ware is making this year is a signing bonus. Ware's 2014 salary is $5 million more than the Broncos were willing to pay Elvis Dumervil in 2013 before he became a free agent because a paperwork snafu on his renegotiated contract led to his release prior to his $12 million salary became fully guaranteed. It's also noteworthy that Ware's contract is 66.7 percent more than the $18 million over three years the Broncos offered Dumervil after the fax fiasco.
A total of $3.5 million of Ware's $7 million 2015 base salary is guaranteed at signing. The guarantee probably ensures Ware's roster spot in 2015 regardless of his 2014 performance although the Broncos could pick up $1,833,333 of cap room ($8,666,666 2015 cap number vs. $6,833,333 in dead money) by releasing him.
Ware had a disappointing 2013 season with the Dallas Cowboys in making the transition from 3-4 outside linebacker to 4-3 defensive end, which led to his release. The seven-time Pro Bowler was limited to a career low six sacks in 2013 while dealing with elbow, quadriceps and back injuries. Ware has had off-season surgery on his elbow. Denver needs Ware to revert to the dominant pass rusher he was from 2008 to 2012 (when he averaged 15.5 sacks annually) or signing him to such a lucrative deal will be a mistake. Shaun Phillips produced 10 sacks for the Broncos in 2013 on a one-year, $1.8 million deal (includes $800,000 earned from incentives for sacks), which is approximately one-seventh of Ware's 2014 compensation.
T.J. Ward: The Broncos are getting tremendous value with Ward's four-year, $22.5 million contract. The Cleveland Browns, Ward's former team, didn't make much of an effort to re-sign one of the NFL's best in-the-box safeties. Instead, Cleveland gave Donte Whitner a four-year, $28 million deal (with $13 million guaranteed).
Ward is getting a fully guaranteed $7 million in 2014, of which $5 million is a signing bonus. His $6.5 million 2015 compensation ($4 million base salary and $2.5 million fifth day of the league year roster bonus) is guaranteed only for injury initially. Both become fully guaranteed on the fifth day of the 2015 league year. $4 million of cap room will be created if Ward is released before the full guarantees kick in. Since Ward is such a bargain, he could earn the entire $22.5 million in his deal.
Emmanuel Sanders: Sanders signed a three-year, $15 million deal (worth a maximum of $18 million through salary escalators) as Decker's replacement. His $6 million salary this year is fully guaranteed, with $3 million as a signing bonus. Sanders has big shoes to fill because Decker has been one of the NFL's most productive wide receivers over the last two seasons with 172 receptions (11th in the NFL), 2,352 receiving yards (ninth in the NFL) and 24 touchdowns (tied for third in the NFL). Sanders must significantly improve upon last year's single season highs of 67 receptions, 740 receiving yards and six touchdowns with the Steelers to validate Denver's belief that Decker's production was a primarily because of the offensive system and being a part of a talented receiving corps.
The Broncos can easily exit Sanders' deal in 2015 if he isn't an adequate replacement for Decker. Since Sanders' $4 million 2015 base salary isn't guaranteed, releasing him would create $3 million of cap room because $1 million in signing bonus proration from 2016 would accelerate onto Denver's 2015 cap.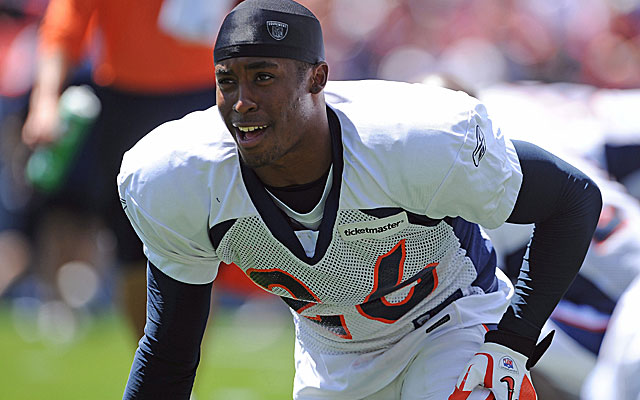 Long-term prognosis
The Broncos should have the best of both worlds. The free-agent deals for their infusion of defensive talent are structured to maintain roster flexibility without adversely impacting the salary cap in the future.
Most teams with Super Bowl aspirations build through the NFL draft while enhancing the roster with free-agent signings. The Packers rely almost exclusively on homegrown talent. General manager Ted Thompson rarely signs players during the first wave of free agency when it is a seller's market. The Seahawks and 49ers are also built from within but make strategic player acquisitions through trades or free agency.
The Broncos' reliance on free agents is a little unusual for a contending team because making a big splash in free agency hasn't paid dividends in recent years. The Eagles missed the playoffs in 2011 with their "Dream Team." The Buccaneers are 11-21 over the past two years after being aggressive with trades and in free agency. The Dolphins finished third in the AFC East with an 8-8 record in 2013 after their free-agency spending spree.
The Broncos were also active in free agency in 2013 by picking up five Super Bowl XLVIII starters (wide receiver Wes Welker, guard Louis Vasquez, defensive tackle Terrance Knighton, defensive end/linebacker Shaun Phillips and cornerback Dominique Rodgers-Cromartie). Vasquez was the highest priced acquisition with a four-year, $23.5 million contract (includes $13 million guaranteed).
Although the Broncos have been active in free agency, they have their share of homegrown talent. Thirteen draft picks or undrafted free agents originally signed by Denver since Elway took over in January 2011 are expected to be key contributors in 2014.
Several key contributors, including Demaryius Thomas, Julius Thomas, Welker, Knighton, Orlando Franklin and Rahim Moore, are scheduled to become unrestricted free agent after the 2014 season. The Broncos' only have 29 players under contract for 2015 using $94.71 million of cap space. With the salary cap expected to have a similar increase to this year's 8.13 percent, it should be around $145 million in 2015. Conservatively, the Broncos should head into next off-season with at least $30 million of cap room unless core players are given contract extensions or the projected growth in the cap isn't accurate.
Retaining both Demaryius Thomas and Julius Thomas will be a top priority. Demaryius has become one of the NFL's best wide receivers. The 2010 first-round pick has 186 receptions (sixth in the NFL), 2,864 receiving yards (third in the NFL) and 24 touchdowns (tied for third in the NFL) during the last two seasons. His next deal should exceed the five-year, $60 million contract (with $30 million in guarantees) Mike Wallace received from the Dolphins as a free agent last year. The 2015 wide receiver franchise tag number will be close to $13 million, based on 2015 cap projections.
Julius Thomas could command a long-term deal in excess of the five-year, $35.1 million contract (with $19 million in guarantees and an additional $3 million in incentives) Jared Cook received from the Rams in 2013 if he proves last year wasn't a fluke. He had 65 catches for 788 yards with 13 touchdowns in his first season with significant playing time at tight end.
Welker will be 33 years old when he hits the open market in 2015. He will probably need to take a substantial pay cut to remain with the Broncos because of lucrative deals for the Thomases, assuming he doesn't retire. Welker missed three games in 2013 because of concussions. Since Knighton is already unhappy with the two-year, $4.5 million contact he signed last year, the Broncos shouldn't expect him to take a hometown discount to re-sign.
All-Pro linebacker Von Miller's four-year rookie contract also expires after the 2014 season. The Broncos have an option for a fifth contract year with him, which must be exercised by May 3, because he was a first-round pick (second overall in 2011). The fifth year is guaranteed for injury upon exercise of the option. It becomes fully guaranteed if Miller is on Denver's roster at the start of the 2015 league year. Miller's option year salary is $9.754 million, the transition tag number (average of the ten highest salaries) at linebacker this year.
The Broncos may take a wait-and-see approach before making a long-term commitment to Miller because of the six-game suspension he served to start the 2013 season for violating the NFL's substance abuse policy and the ACL tear he suffered late in the season. If Miller's troubles are behind him and he regains his pre-injury form, he may look at the five-year, $66 million contract extension Clay Matthews signed in 2013, which made him the NFL's highest paid linebacker, as a salary benchmark.
Denver's long-term success may hinge on how talented a roster Elway can build before Manning retires. If the Broncos become less reliant on Manning for success, suffering a similar fate as the Colts in 2011 when he missed the entire season with a neck injury will be avoided. The Colts secured the first overall pick in the 2012 draft with a 2-14 record during Manning's absence. Quarterback will be Denver's biggest question mark if 2014 is Manning's final season. 2012 second-round pick Brock Osweiler, an unproven commodity, would likely be the leading candidate to assume quarterback duties in 2015, which is Osweiler's contract year. The longer Manning plays, the more talent the Broncos should be able to amass to help offset his inevitable departure since there's probably going to be a significant drop-off between him and whoever assumes the reigs at quarterback after he retires.
---
Joel Corry is a former sports agent who helped found Premier Sports & Entertainment, a sports management firm that represents professional athletes and coaches. Before his tenure at Premier, Joel worked for Management Plus Enterprises, which represented Shaquille O'Neal, Hakeem Olajuwon and Ronnie Lott.
You can follow him on Twitter: @corryjoel
You can email him at jccorry@gmail.com