Johnny Manziel performs well in circus-like pro day atmosphere
More NFL offseason: Mock Drafts | Prospect Rankings | Pro Days | Top free agents
Of the three high-end quarterbacks who probably will go in the first 10 picks of the NFL draft, Texas A&M's Johnny Manziel was the last to participate in his pro day. Already, Louisville's Teddy Bridgewater had a disappointing performance, while UCF's Blake Bortles had a solid, if not spectacular showing.
With more than 100 media members in attendance and with reportedly 30 of 32 NFL teams in College Station as well -- along with President George H.W. Bush -- Manziel's pro day was the circus that any fan could have loved. But say this for Manziel: he showed accuracy, a strong arm and a nice touch during his workout. Of all three quarterbacks, you could convincingly make the case that Manziel had the best quarterbacking pro day of any of them.
One of the biggest pieces of news that emerged before he took the field was that Manziel decided to throw in a helmet and shoulder pads, something that's not been seen before by just about every scribe in attendance. Including the legendary Gil Brandt.
Pro day: Manziel delivers | Circus atmosphere | Former President attends | Snark
The theories about why Manziel would do such a thing ran from the thought that he wanted to appear physically larger to the scouts in attendance to just simply wanting to show that he's ultra-competitive.
Oh, and this.
Just asked Manziel why the pads and helmet at pro day: "Isn't the game played with them on?"

— Gil Brandt (@Gil_Brandt) March 27, 2014
Still, it impressed a former NFL running back who wondered if Manziel's idea will spark a trend.
Is @JManziel2 a pioneer for wearing pads for his pro day? It's actually smart as hell & should be the norm! Wonder who follows? #kudos

— Tiki Barber (@TikiBarber) March 27, 2014
Either way, Manziel spent the day doing things like this.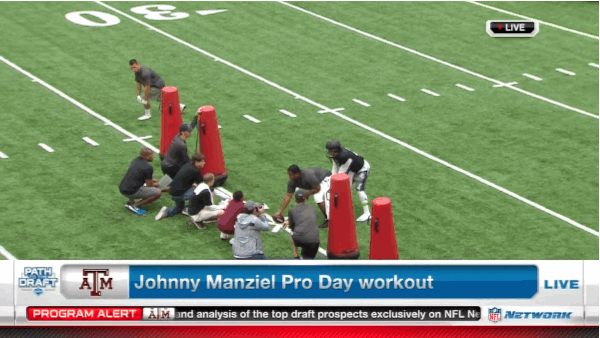 Manziel also did a nice job avoiding the broom that was wielded by his quarterback coach, George Whitfield. (It should be noted also that the broom itself didn't make a single impact play all day.)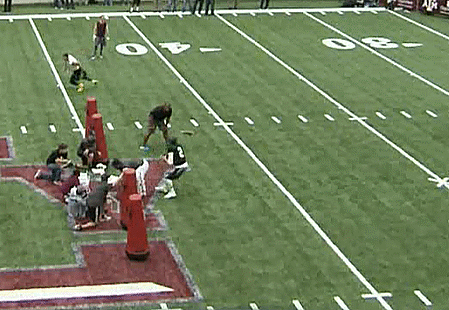 And here was Manziel's final throw, his walk-off home run so to speak.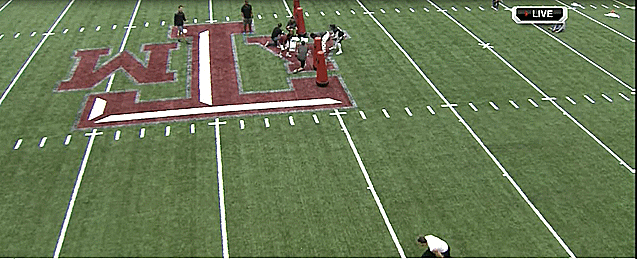 Said Manziel on NFL Network after his workout: "My main thing is that I'm not scared of anything. I don't play that way. Why come out here in a scripted workout and be scared of anything? Let's make it as challenging as we possibly could. Go out and have fun with it."
Overall, Manziel completed a reported 61 of 63 passes, though, as always, you should remember that he didn't face a defense during his pro day. But it was all under the watchful eye of some VIPs you might remember.
Some dude named George has shown up for Manziel's pro day, via @DeWittCBS. pic.twitter.com/ejFMHZWEQa

— Josh Katzowitz (@joshkatzowitz) March 27, 2014
And apparently, George Bush was impressed enough with Manziel to spend some time with him and his family.
With @JManziel2 before his pro day @TAMU. I could have used this helmet in my previous day job. pic.twitter.com/m0QvMR1GHe

— George Bush (@GeorgeHWBush) March 27, 2014