PHOTO: Tony Romo sitting with two ex-presidents at NCAA title game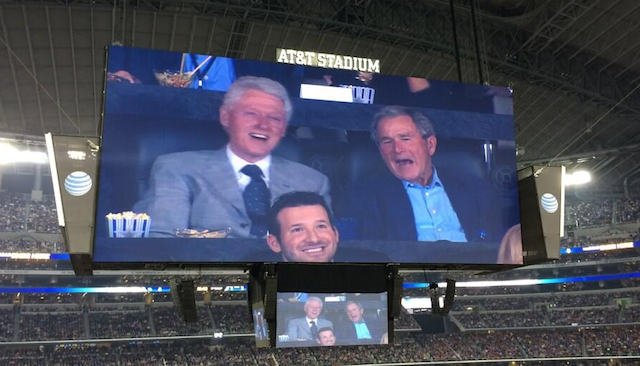 Why is everyone laughing so hard in the picture above? I'm guessing because of the fact below.
These 3 guys are 4-0 in Presidential elections but have only 1 playoff win combined. pic.twitter.com/ixg094QmqK

— Barry Horn (@bhorn55) April 8, 2014
The pictures above actually get even better because the guy in the blue shirt above Clinton's head isn't a secret service agent, it's Cowboys coach Jason Garrett. And looks like Garrett made Jason Witten -- who's next to Romo -- wear the same outfit as him. Hopefully we get a Romo-Garrett-Clinton-Bush-Witten selfie before the night's over. Laura Bush can be in it, too.
Kentucky's curse: LOCATED: pic.twitter.com/jEUZdweBY8 #ROMO

— LostLettermen.com (@LostLettermen) April 8, 2014