DeSean Jackson misses first week of Redskins offseason workouts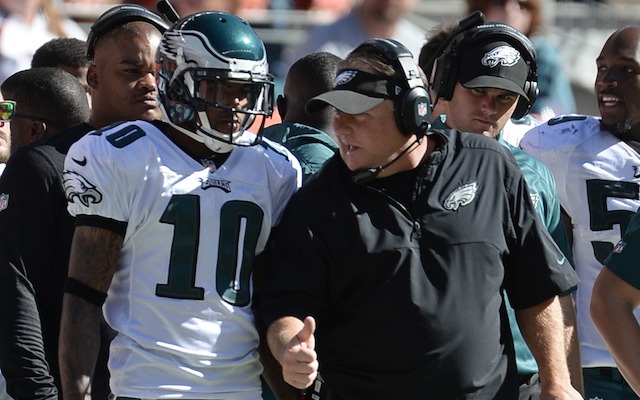 More NFL offseason: Mock Drafts | Prospect Rankings | Pro Days | Top free agents
Offseason workouts for those teams who have new head coaches began Monday, two weeks before the rest of the league's squads could start. Thus, the Redskins and new coach Jay Gruden began training for the 2014 season on Monday. The Eagles with second-year coach Chip Kelly did not.
And that apparently is why mercurial receiver DeSean Jackson is on vacation right now instead of meeting his new teammates.
As CSN Washington writes, Jackson had booked his vacation trip when he thought he would be playing for the Eagles. He, of course, didn't know the Eagles would release him for a variety of factors.
But Jackson will reportedly report to his new team when he returns from his vacation next week, and in his absence, a few of his new teammates said they were excited about Washington's new addition. Despite all the controversy surrounding Jackson since a recent media report stated that the Eagles had been worried about his potential gang affiliations.
"A lot of the stuff is just he say, she say stuff, and you got to get to know a guy for yourself," left tackle Trent Williams said. "I haven't had any type of bad feelings towards him, or any type of bad read. When I met him he was a great guy, a pretty cool guy ... I don't think he's a bad guy. I don't think his character is bad. I think he can be a great addition to this team."
But Jackson's decision to continue on with his vacation has led to some discussion about whether Jackson should have cancelled his trip in order to make time for his team.
My opinion: is it a big deal that Jackson is missing the voluntary workouts? Not really. Would it have made a bold statement that perhaps Jackson is ready to change the perception that he's not a good teammate? Probably. In the end, does any of this really matter -- in other words, will the rest of his career be tarnished by this pre-planned vacation? Um, no.
But then again, posting pictures like this on his Instagram account probably isn't helping much either.