PHOTO: Eli and Peyton Manning with Coach K at Duke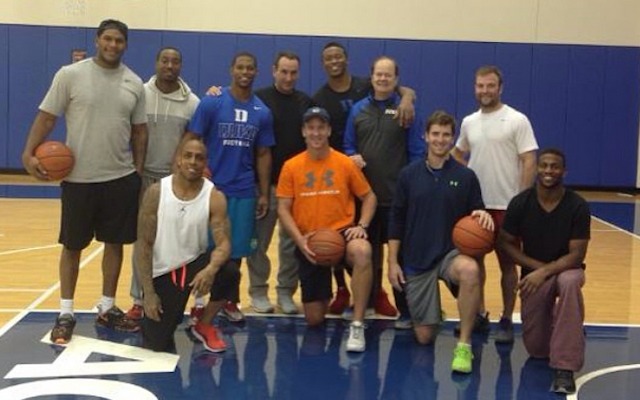 More NFL offseason: Mock Drafts | Prospect Rankings | Pro days | Top free agents
Eli Manning's left ankle might look healthy in the picture above, but it's definitely not healthy. The Giants announced on Thursday that Manning underwent ankle surgery and will be out for the next six weeks.
Eli's sore ankle didn't stop him from hitting the basketball court at Duke on Wednesday though. The Giants quarterback took part in a shoot-around with his brother Peyton and then took some time to take the above picture with a few teammates and Duke basketball coach Mike Krzyzewski. Duke football coach David Cutcliffe is also in the picture.
Those other guys in the picture? They play football too. Peyton has Broncos teammates Wes Welker, Julius Thomas, Demaryius Thomas, Andre Caldwell and Emmanuel Sanders with him. Eli brought Giants teammates Victor Cruz and Mario Manningham.
The pilgrimage to Duke has become an annual thing for the Manning brothers. Peyton actually lived with Cutcliffe for the better part of five months while he was rehabbing from his neck injury in late 2011 to early 2012, according to the Duke Chronicle.