Panthers sign CFL standout DE Alex Hall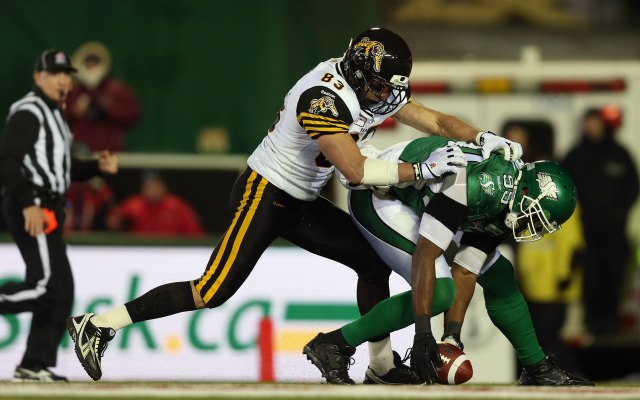 More NFL offseason: Mock Drafts | Prospect Rankings | Pro Days | Top free agents
Defensive end Alex Hall played 32 games from 2008-10 for the Browns and Giants, but he hasn't participated in an actual NFL Game in the past four years. And for the past two seasons, he's made his living in the Canadian Football League where he's been pretty darn good.
Good enough to earn another shot at the NFL. On Friday, the Panthers announced they had signed him to a contract.
Last season, Hall -- who also reportedly worked out with the Titans this week -- accumulated 16 sacks, the second-best total in the CFL last season, and in 2012 while in Winnipeg, he recorded nine.
So, how good is Hall supposed to be, anyway?
@joshkatzowitz: Quite. 16 sacks last year. Mid-year trade from WPG (rebuilding) to SSK. Helped SSK win Grey Cup. Could do well in NFL IMO.

— Andrew Bucholtz (@AndrewBucholtz) April 11, 2014
More from Bucholtz on Yahoo Sports:
He also has NFL experience, as he had brief stints in the league from 2008-2010 with the Browns, Eagles, Cardinals and Giants. A question is if he'll shift into a linebacking role in the NFL, though; he's listed as 6'6'' and 256 pounds, which would make him very small for a NFL defensive end. (Granted, Hall beat plenty of 300-pound-plus tackles in the CFL, but the NFL's OTs tend to be even bigger and more athletic.) Hall could prove to be an excellent pass rusher as an outside linebacker, but that would be another transition to deal with. (It's also notable that the CFL-NFL jump can be very difficult for linemen, given differences in line play that include the CFL's expanded neutral zone and emphasis on pass-blocking.)