Kevin Gilbride calls report that Eli Manning is in decline 'ludicrous'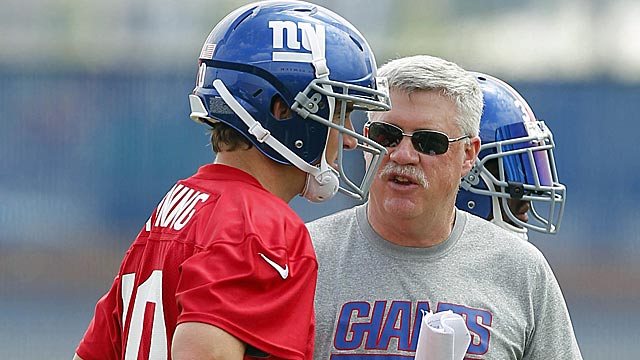 More NFL offseason: Mock Drafts | Prospect Rankings | Pro days | Top free agents
Eli Manning may have thrown a career-high 27 interceptions last season, and statistically he may have rated as one of the league's worst quarterbacks, but that doesn't mean the 33-year-old is in decline, as a recent ESPN report suggested -- at least to hear his former offensive coordinator tell it.
"There's been no deterioration of his arm strength, there's been no lack of preparation and effort," Kevin Gilbride said during an appearance on Pro Football Talk. "I think he's going to be fine as soon as they solidify the offensive line. They certainly made a move to do that by bringing in three interior offensive linemen and as soon as they get somebody that's going to be productive for them as an outside receiver -- Victor Cruz is terrific, but they need somebody that when they go match up, bump and run [and] go win for them."
So, about the contention that some folks in the Giants front office feel Manning may never regain the form that helped the organization to two Super Bowls?
"I think that's, to be honest with you, ludicrous," Gilbride continued. "I think he's going to be fine. ... He's going to throw the ball to the right person and he's going to throw it accurately."
Maybe. Then again, maybe not, based on some pretty atrocious throws Manning made a season ago (on five occasions, he threw at least three interceptions, and in only three games did he avoid throwing a pick at all). That said, the Giants' offensive issues aren't all on the quarterback. That 31st-ranked offense was just as inept through the air as it was on the ground, and everybody -- from Manning to the wideouts to the running backs to the offensive line -- struggled.
But help could be on the way. There's a chance big-play wide receiver Mike Evans is on the board when the Giants pick 12th in next month's NFL draft.
The team also hired Packers quarterbacks coach Ben McAdoo to replace Gilbride. In February, McAdoo's plan for Manning was simple: accentuate what he does well.
"As Eli gets his hands on it and has a chance to get comfortable with it, we'll make tweaks here and there," McAdoo said at the time. "Really, as the offseason and training camp goes on, every offensive system tailors towards the strength of the starting quarterback. What he does well and what he doesn't do well. At the end of the day, your system is built around the personnel, not the other way around."
How Manning fares in 2014 will have everything to do with whether the Giants decide to extend his contract, which expires following the 2015 season.