Vikings OL Josh Samuda suffers gruesome ankle injury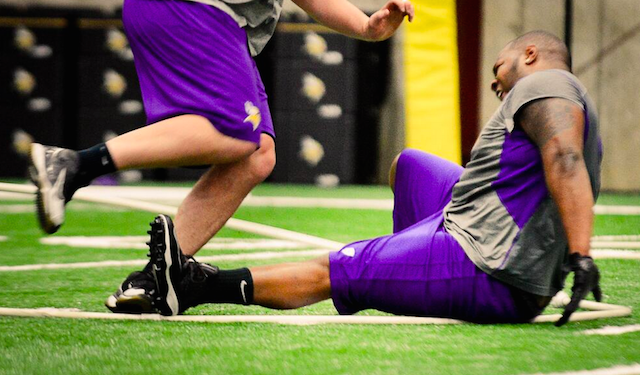 More NFL offseason: Mock Drafts | Prospect Rankings | Pro days | Top free agents
Even when there's no contact involved, football can still be an ugly sport -- just ask Vikings offensive lineman Josh Samuda. During voluntary workouts on Tuesday, Samuda dislocated his right ankle while participating in a non-contact drill.
The 25-year-old offensive lineman is expected to have surgery on Wednesday, according to the Minneapolist Star-Tribune.
If you're wondering how gruesome the injury was or what a dislocated ankle looks like, you can see a picture of Samuda's injury here. Ben Garvin of the St. Paul Pioneer Press was only a few feet away from Samuda when the injury happened and he posted a picture of it on Twitter.
Before you click through to the picture though, keep in mind that there's no unseeing the picture. Although there's no bone visible and Samuda's sock is covering his ankle, it's still gruesome to look at.
Samuda's in his first year with the Vikings after signing a reserve/future contract with the team in January. The offensive guard played 16 games for the Dolphins in 2012, but spent the 2013 season out of football.
In other Vikings news, the team signed tight end Allen Reisner. Reisner started his career in Minnesota in 2011, then went to Jacksonville in 2012 after the Jaguars signed him off of the Vikings practice squad. Reisner made three starts for the Jaguars last season and caught five passes for 40 yards.