Report: Arbitrator says DeSean Jackson owes Rosenhaus $516K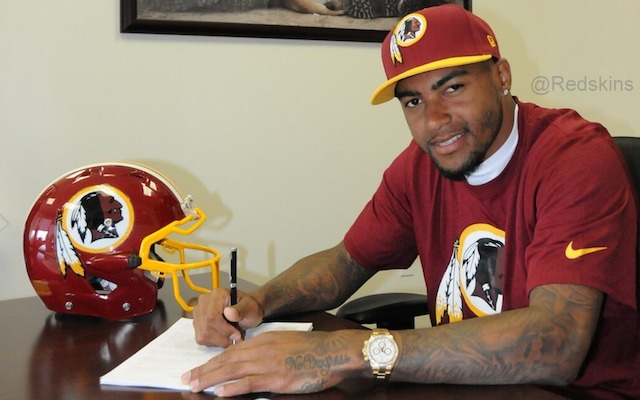 More NFL offseason: Mock Drafts | Prospect Rankings | Pro days | Top free agents
Good news: DeSean Jackson just signed a three-year, $24 million contract with the Redskins that includes a $5 million signing bonus.
Bad news: Jackson will soon be $516,415 lighter in the wallet. This is what an NFLPA arbitrator has said he owes agent Drew Rosenhaus in unpaid loans and agent fees, reports Yahoo.com's Rand Getlin.
Rosenhaus had been seeking $777,793 for loans, interest, credit card charges and insurance premiums from #Redskins WR DeSean Jackson.

— Rand Getlin (@Rand_Getlin) April 16, 2014
Part of what DeSean Jackson owes to Rosenhaus came in the form of a $375,000 interest-free loan he received from the agent when he signed.

— Rand Getlin (@Rand_Getlin) April 16, 2014
Getlin also tweeted that "Of that $375,000, Rosenhaus said he'd forgive $175,000 if [Jackson] allowed him to negotiate his then-upcoming contract with the Eagles."
More Getlin: "The law firm that represented Rosenhaus against Jackson was referred to him by NFLPA Executive Director De Smith."
A union source told CBSSports.com that arbitrator Roger Kaplan -- not the NFLPA -- made the decisions per agent regulations. "Roger Kaplan is one of two independent arbitrators who arbitrate disputes between agents and players; he is paid 50-50 by the parties to the dispute -- in this case [Jackson] and Rosenhaus. He ruled on the law applicable to contracts as well as the applicable NFLPA Regulations governing Contract Advisors."
Getlin's response:
Saw a report that tried to separate NFLPA arbitrator Roger Kaplan from the union. You can't. He's been their guy for 20 years.

— Rand Getlin (@Rand_Getlin) April 16, 2014
Rosenhaus had no comment, according to NJ.com.
In June 2003, Rosenhaus filed a grievance against Jackson, his former client, alleging that Jackson owed I'm more than $400,000 in unpaid loans, according to Yahoo.com. Rosenhaus was Jackson's agent from 2009 to 2013, and helped negotiate the aforementioned five-year, $51 million deal he signed with the Eagles in 2011.