WATCH: JJ Watt makes video to prove he's friends with young fan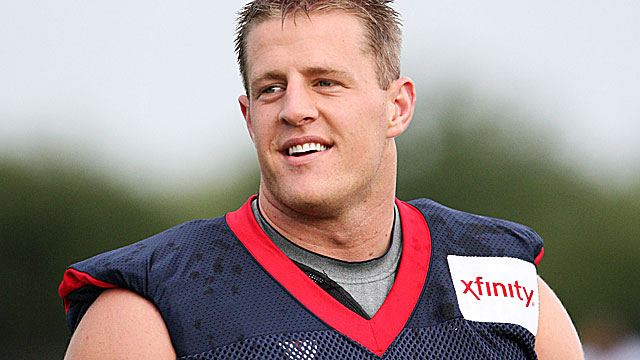 More NFL offseason: Mock Drafts | Prospect Rankings | Pro days | Top free agents
J.J. Watt may be best known for wreaking havoc in the offensive backfield but he has a soft spot for young Texans fans. The latest proof:
JJ Watt just stays awesome RT@JJWatt The kids at Trey's school didn't believe that we were friends... http://t.co/DwKVxeS5pI

— Lara Hall (@producerlara) April 16, 2014
In the Instagram video linked above, Watt says, "I'm J.J. Watt. This is my buddy Trey and all of you who don't believe Trey is my friend, believe this touchdown."
Trey then hits Watt in stride with a beautifully thrown pass. (Matt Schaub take note.)
This isn't the first time Watt has gone out of his way for a fan. In January 2013, a six-year-old named Breanna said in a YouTube video that she wished she was 25 because she wanted "to marry J.J. Watt."
Well, Watt found out about it and made Breanna's day. Literally.
Does anyone happen to know this cute little girl? We have to find her and turn those tears into a smile. http://t.co/nnlHGZxn

— JJ Watt (@JJWatt) January 28, 2013
That led to this:
Thanks to your help, we found 6-year-old Breanna and she said yes to being my pretend wife for the day... pic.twitter.com/gWql9JeN

— JJ Watt (@JJWatt) January 30, 2013
And last May, Watt saw a news story about 12-year-old boy with leukemia, and paid him a surprise visit.
"When I heard the story that he named his robot after me, and that he was such a big fan, I mean it's a no brainer to do stuff like this," Watt said at the time (via B/R). "To see the smile on his face when he realized I was in the room with him and to see all the kids, there's no better feeling in the world."