Report: 49ers put Colin Kaepernick contract talks on hold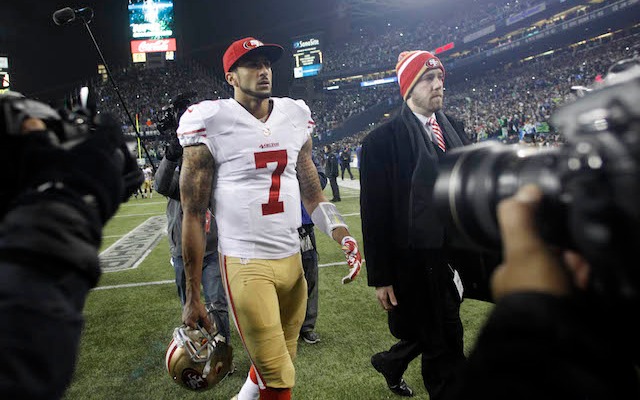 More NFL offseason: Mock Drafts | Prospect Rankings | Pro days | Top free agents
The 49ers have decided to call a timeout on extension talks with quarterback Colin Kaepernick. According to NFL.com, the team has decided to put contract negotiations on hold while Miami police investigate an incident that Kaepernick was involved in on April 1.
Kaepernick, Quinton Patton and Seahawks receiver Ricardo Lockette were all named in an incident report that was filed by an unnamed woman on April 3 and released to the public on April 10.
The incident report doesn't make any accusations against anyone, but the woman did say that she got naked in front of Kaepernick, who left the room after the woman took her clothes off. On the morning of April 2, the woman woke up in a hospital room and didn't "remember how she got there or who transported her to the hospital."
The woman also mentioned alcohol and marijuana in the incident report.
According to a separate police report, Lockette called 911 twice after the woman refused to leave his apartment. The Seahawks receiver called police at 12:03 a.m. and 12:20 a.m. on April 2 because the woman was lying naked on Kaepernick's bed and refused to leave. Miami Fire Rescue was eventually dispatched to the apartment and the woman was taken to the hospital around 12:32 a.m.
In a series of tweets sent out on April 11, Kaepernick maintained that he did nothing wrong.
The charges made in the TMZ story and other stories I've seen are completely wrong. They make things up about me that never happened. I take great pride in who I am and what I do, but I guess sometimes you have to deal with someone who makes things up. I want to thank all of the people who have shared their encouraging sentiments. I assure you that your faith is not misplaced.
CBS Sports NFL Insider Jason La Canfora doesn't believe the incident will affect Kaepernick's asking price. La Canfora expects the quarterback to still be seeking about $20 million a year.
From La Canfora:
Kaepernick believes he belongs in the class of $20M-per-season quarterbacks. And nothing has changed that, certainly not the "incident report" and murky allegations against him recently. Kaepernick has been charged with nothing, police eventually were in that apartment on the night in question to restrain the female and forcibly remove her from the suite, according to sources. Kaepernick did not invite her to the room and, from what I am hearing, Kaepernick was not even in that hotel for most of the night in question.
The two sides originally began negotiations in February and talks were believed to have started off well. However, according to NFL.com, the two sides had recently been pretty far apart on numbers.