Lance Moore: Ben Roethlisberger has stronger arm than Drew Brees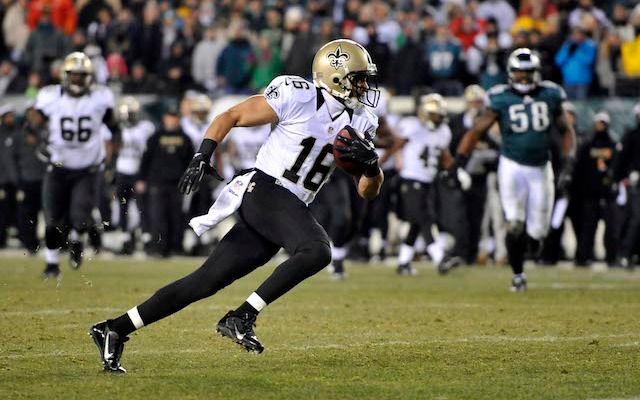 More NFL offseason: Mock Drafts | Prospect Rankings | Pro days | Top free agents
Former Saints receiver Lance Moore has only been with the Steelers since signing with the team on March 21, a time period that's apparently been long enough time for him to assess at least one thing about his new quarterback situation: Moore thinks Ben Roethlisberger has a stronger arm than Drew Brees.
"I would say Ben's got a little bit stronger arm, maybe a lot stronger arm," Moore said this week, via the Steelers website. "Just from a couple of days throwing with him here, that's something that kind of jumps out at me. If you're kind of -- I call it lazy with your eyes -- that ball will zoom right past you."
After watching Moore catch passes from Brees for eight seasons, Saints fans weren't thrilled to hear Moore's comments -- and they let him know on Twitter. On Wednesday, Moore decided to try and clear things up.
Everybody down south is mad now? Never said I disliked Drew or am not thankful for my time w him. Wouldn't be where I am w/o him. Chill out

— Lance Moore (@LanceMoore16) April 30, 2014
Despite his tweet, Moore's original point still seems to stand though: Roethlisberger's passes have more zip. And now that Moore's catching faster passes from Roethlisberger, he says he's going to have to change his receiving style a little bit.
"That's something I'll have to adjust to. I feel like the quarterback should never have to really adjust to the receiver," Moore said. "The receiver should make those adjustments and make things right with the quarterback, because he's the one pulling the trigger. And if they're waiting on you, it's going to make it tough to get things done."
As for the rest of us, we can decide for ourselves who has a stronger arm between Brees and Roethlisberger. The Steelers will be hosting the Saints in Week 13, just remember to bring your radar gun to the game because you probably won't get to catch a pass from either quarterback.