2014 NFL Draft: Chiefs get C- for selection of Dee Ford with 23rd pick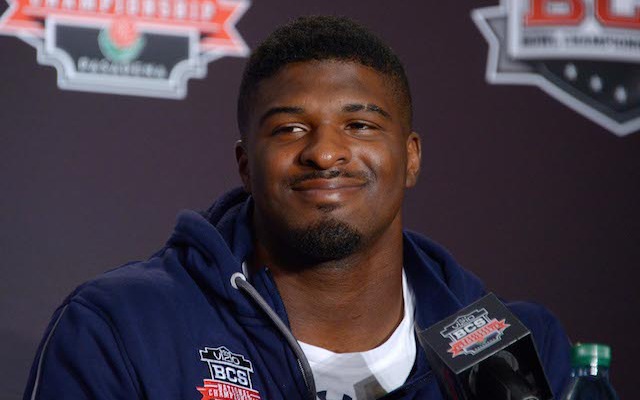 Draft coverage: Draft picks and grades | Prospect Rankings | Mock drafts | News
Jadeveon Clowney wasn't the only SEC defensive end picked in the first-round on Thursday, so was Auburn's Dee Ford as the Chiefs made him the 23rd overall pick in the NFL Draft. Ford will join a stacked front seven in Kansas City that already includes Tamba Hali and Justin Houston.
CBSSports.com senior writer Pete Prisco though it was a weird pick because the Chiefs already have Houston and Hali.
Dee Ford to Chiefs: Don't they have Justin Houston and Tamba Hali? They had other needs. Strange pick. GRADE: C- http://t.co/KPxAyHqyNs

— Pete Prisco (@PriscoCBS) May 9, 2014
Although, ESPN.com's Adam Schefter points out that Ford may have been drafted because Hali checked in to Kansas City 20 pounds overweight on May 2. Ford totaled 10.5 sacks in 2013 despite the fact that he missed the first two games of the season after spraing his knee during fall camp.
The big question for the Kansas City is: Will Ford play end or linebacker? Ford's former coach at Auburn, Gus Malzahn, says that Ford can do both.
"He's versatile enough to fit at either," Malzahn told AL.com on Wednesday. "He's so explosive. He was one of the best pass rushers in our league, if not our best, so he's got a chance to be a really good player at the next level. He's a tough guy."
One of the knocks on Ford though is that at 6-2, 252 pounds, he's just not big enough to stop the run. "Lacks the size and leverage ability to routinely hold his ground at the point of attach against tackles, when asked to defend the run," NFLDraftScout.com's Rob Rang wrote about Ford before the draft.
The 2014 draft marks the second year in a row that an Auburn defensive end has been selected. Last year, the 49ers took Corey Lemonier in the third round. However, it's been a lot longer than that since a Tiger defensive end went in the first round. Before Ford, the last time it happened was in 1986 when the Vikings grabbed Gerald Robinson with the 14th overall pick.