Jaguars GM: Blake Bortles won't be Jax starting QB in 2014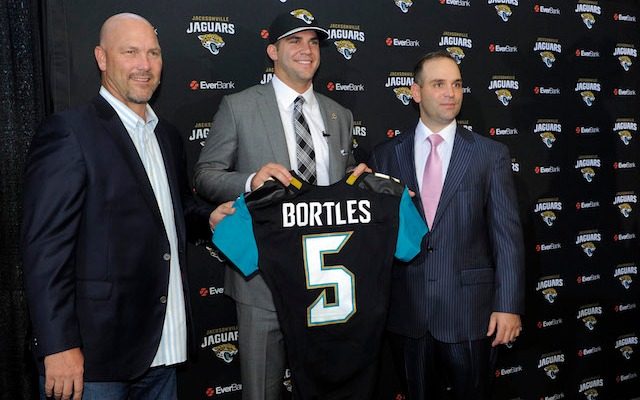 Draft coverage: Draft picks and grades | Prospect Rankings | Mock drafts | News
One of the biggest surprises in the first round of the NFL Draft on Thursday was Jacksonville's decision to take Central Florida quarterback Blake Bortles with the third overall pick.
In a press conference held after Jacksonville made the pick, Jaguars general manager David Caldwell had another surprise for everyone: He announced that Bortles probably won't be starting for the Jaguars in 2014.
Caldwell said the plan is for Chad Henne to be the team's starter in 2014. The same Chad Henne who helped pave the way for the Jaguars to get the No. 3 pick by going 4-9 as a starter in 2013.
"That's the plan that Chad is going to be the guy," Caldwell said, via the Jaguars official website. "We told him and we were very honest with Chad through the process. We told him there was a chance we were going to draft a quarterback. Chad knew all along when we re-signed him in the offseason, we were honest with him and he's been great. [Chad] will probably give us the best chance of winning this year and Blake will be the guy of the future."
Caldwell was more specific about the timeline of when Bortles might start during an interview with ESPN Radio on Friday.
"To be honest with you, probably 2015," Caldwell said of when we might see Bortles. "We'd like to give Chad this whole year and go with Chad this year. Blake's got some development to do. We're going to be getting him ready, so come 2015 he's ready to compete for that spot."
Basically, don't throw away that Chad Henne jersey just yet, you might need it for another year.