2014 NFL Draft: Broncos get A for picking WR Cody Latimer at No. 56
Draft coverage: Draft picks and grades | Prospect Rankings | Mock drafts | News
The Denver Broncos seemed to have a simple strategy for the second round of the NFL Draft on Friday: Find Peyton Manning someone to throw the ball too. Denver did just that by taking Cody Latimer with the 62nd overall pick.
And he was, um, stylish.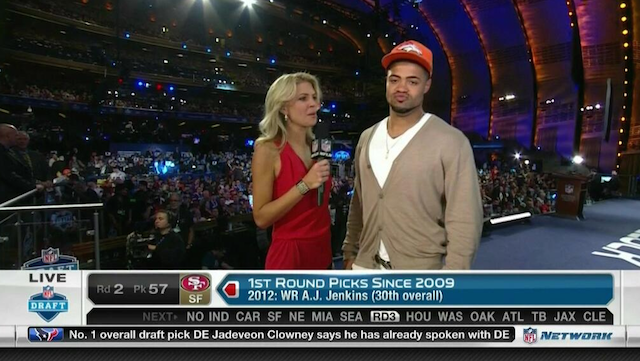 Despite only playing three seasons at Indiana, the former Hoosier receiver still found his way into the school's record books. Latimer tallied 135 receptions and 2,042 receiving yards during his career at Indiana, both number rank seventh in the school's record book.
CBSSports.com senior writer Pete Prisco didn't just like the pick, he loved the pick.
Great pick. The Broncos get another weapon in Latimer. Scary. He can be a big-play weapon in a year or so. GRADE: A http://t.co/KPxAyHqyNs

— Pete Prisco (@PriscoCBS) May 10, 2014
One of the knocks on Latimer, according to NFLDraftScout.com, is that he doesn't have the ability to stretch defenses, "Though Latimer exhibits burst and hip-sink to separate out of cuts, he seems to lack a second gear when asked to pull away vertically and may struggle to consistently threaten the top of the defense," Rob Rang wrote before the draft.
Despite the knock, Latimer was still a once-in-a-generation talent for Indiana.
It's been 20 years since a Hoosier receiver was taken higher in the draft than Latimer was on Friday. The last time an Indiana receiver was taken earlier than No. 56 came in 1994, when the Giants took Thomas Lewis with the 24th overall pick. Lewis only lasted four seasons in New York before flaming out of the NFL.
Oh, and one final thing, if Manning ever feels the need to throw Latimer a jump ball, he'll probably catch it. At least if this dunk video is any indication.