LeSean McCoy: Bryce Brown will be Bills Day 1 starter at RB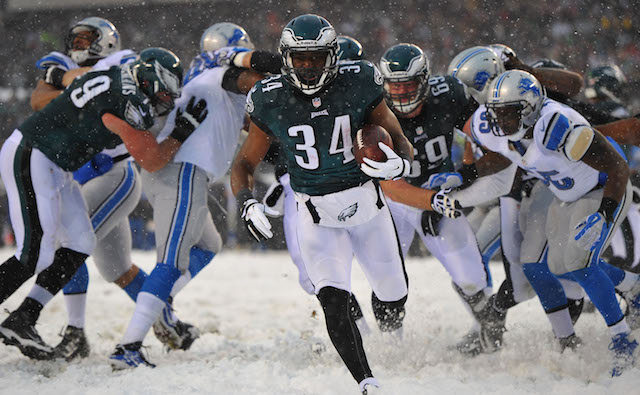 Draft coverage: Picks and grades | Prospect Rankings | Sam goes No. 249 | News
If you're looking for some early fantasy football advice heading into the 2014 NFL season, LeSean McCoy has a hot tip for you: Former Eagles running back Bryce Brown is going to be the 'Day 1' starter in Buffalo.
@BryceBrown_34 my boy it's been fun... Good luck with everything and knowing what they got and knowing what they getting lol starter day 1

— Lesean McCoy (@CutonDime25) May 10, 2014
Brown was traded from Philadelphia to Buffalo during the final day of the NFL Draft on Saturday. If Brown were to earn the starting spot with the Bills, he'd have to beat out Fred Jackson or C.J. Spiller for the job, something Jackson doesn't exactly see happening.
No disrespect to @BryceBrown_34 but @CutonDime25 starter day 1 huh? I think @CJSPILLER and I might wanna bet something on that! #BillsMafia

— Fred Jackson (@Fred22Jackson) May 10, 2014
It's not likely Brown will start in Buffalo, but general manager Doug Whaley didn't rule it out over the weekend. All Whaley did was promise that there will be a competition.
"I can't sum up what the backfield is, but I will sum up what one of our philosophies as a team is and that's 'competition brings out the best in everybody,'" Whaley said, via the Buffalo News. "We want competition -- we don't want people coming in and saying, 'here is my spot and I'm safe.' We want people to push people to be better."
As for McCoy, he seems to be highly supportive of every ex-Eagle that landed somewhere else this offseason. Back in April, the Philly running back said that Michael Vick is 'way better' than Geno Smith and that Vick would 'be the Jets' starting quarterback this year.'