Report: A dozen cities are interested in hosting the NFL draft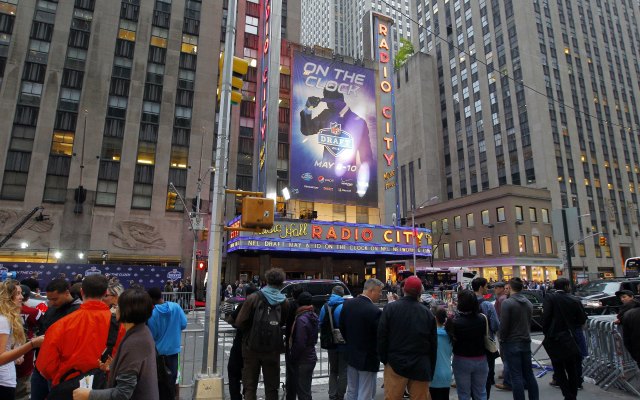 More Draft coverage: 2015 Mock Drafts | 2015 Top 100 | 2014 Draft Grades | News
At this point, it almost seems like the days of the NFL draft taking place in New York in late April are about to be a far-gone memory. Commissioner Roger Goodell has said the league is thinking about keeping the draft in the month of May, and the NFL also has been fielding offers from other cities in case it decides that New York no longer fits its need as a host.
About a week ago, a number of cities reportedly had shown interest to the NFL about hosting the draft, including New Orleans, Boston, Philadelphia, Orlando, Chicago, Los Angeles, Arlington (Texas) and Canton (Ohio).
Now, SI.com reports that even more cities want the draft to come to them. The league's owners will talk about next year's draft at next week's owner meetings in Atlanta, but the NFL reportedly is still waiting to hear from Radio City Music Hall, which has played host since 2006, about its schedule for next spring.
But as SI.com writes, the other cities that want the draft include Green Bay, Houston, Pittsburgh, and Orlando. There's also the possibility that the NFL could return to New York again in 2015.
More from SI:
Dallas has emerged as a particularly interesting and attractive possibility, with Cowboys owner Jerry Jones offering his five-year-old $1 billion-plus AT&T Stadium as a venue for the draft. The league is said to be surprised by both the level of serious interest and the amount of cities that hope to vie for the event. The idea of attracting thousands of fans to the Cowboys' stadium for the draft is a very appealing one to the NFL, especially since the proceedings could be shown on the team's gigantic video boards in-house, while representatives from each of the league's 32 teams and league officials are ensconced upstairs conducting the draft on the suite level.

At last week's draft in New York, a league source told SI.com that the NFL didn't know if it was logistically feasible to move the draft in 2015, though they pointed out that the bulk of the detailed planning behind such a decision had yet to be done. Transplanting the draft to a site like Chicago or Dallas seemed more likely for 2015 than a cross-country relocation to Los Angeles, the source said.

The league in one scenario could choose to hold the draft in multiple cities in the same year, possibly even 2015. The first round would be conducted at one venue, with the event then being moved to another city, or possibly two, for an undetermined number of later rounds.
Plus, don't forget the idea of a four-day draft. All of which is to remind us that the NFL seemingly wants to dominate the sports landscape every month of the year, and so far, it seems to have a handle on exactly how to do so.